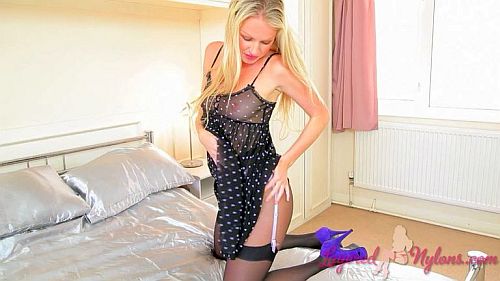 Sunny Barret looked incredibly sexy in her flimsy, see-through polka dot slip as she flicked her long blonde hair back and leaned forward to run her hands up her legs in their layers of black stockings and pantyhose. Teasingly, she lifted the hem of her slip and let it fall, briefly revealing the long purple suspenders stretching over her thighs and down to the tops of her nylon stockings.
She knelt on the bed and explored her body through the layers of delicate nylon lingerie, her hands making swishing sounds as they brushed over the surface of her shapely legs dressed in shiny nylon. Then lifted her slip to give a rear view of her fabulous peach ass sheathed in tight sheer nylon under which she was totally without panties.
Sunny let the straps of her slip fall over her arms and uncovered her all natural breasts, then brushed her hands and forearms over the slightly raised mounds and pink, bud like nipples of her boobs.
Standing once more, she gave a rear view as she pushed her hands down the rear of her pantyhose and under the suspender belt. She gently squeezed the cheeks of her ass in her hands, then turned around to give a close up view of her nyloned mons pubis framed by her suspenders.
Sunny Barret moves very sensually as she teases in her layer of lingerie, nylon stockings and pantyhose in this video here at Layered-Nylons.