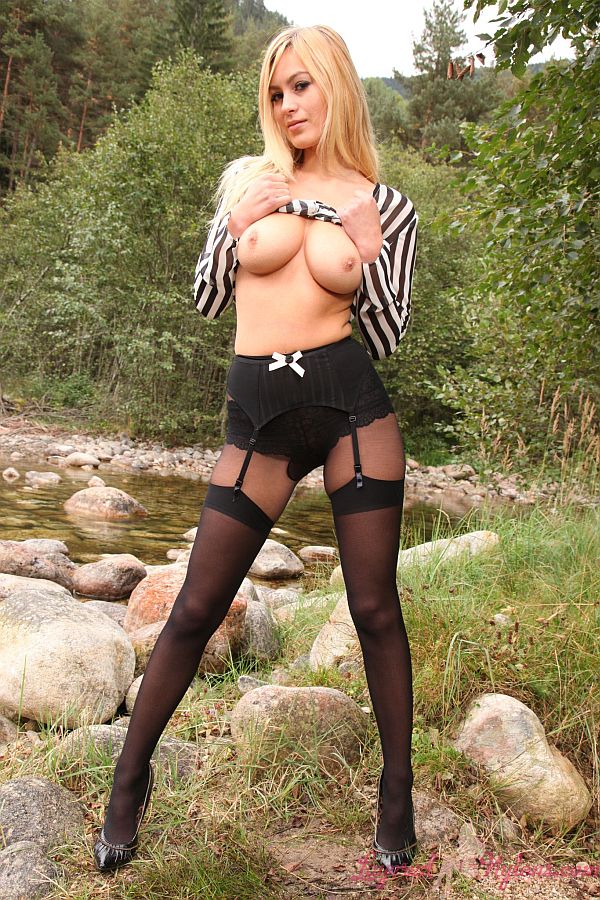 Summer likes being outdoors, so for a change of scene we went for a drive in the countryside looking for a place to do this shoot and found a quiet spot near a river.
It may seem strange seeing a girl walking around on rough terrain in stiletto heels, but there's something quite sexy about it as well. Maybe the unusual situation of her being dressed in her fine clothes out in the open, that gives the feeling of naughtiness about the whole thing. Whatever, everyone enjoyed our day out, photographing Summer stripping down to her black lingerie, stockings and pantyhose.
Summer looked so smartly dressed as she stood by the stony banks of the river in her striped shirt, short black skirt and legs in black hosiery and heels. She turned and slowly pulled up the back of her tight skirt and revealed she was wearing some incredibly sexy, black lace knickers, under her sheer nylon pantyhose. Her ass looked like perfection in those knickers and her black suspenders stretched around the curve of her buttocks and strained on the tops of her black stockings.
Summer unbuttoned a few buttons of her shirt and pulled it open to give us a quick flash of her naked boobs. Then turned and looked back with a saucy smile on her face as she unzipped her skirt and pulled it over her ass and down her stockinged legs. Sitting on a near-by rock she stripped the skirt over her heels and then squatted to show more of her fabulous ass bounded by her black suspenders and sheathed in those sexy, lacy panties and nylon pantyhose.
Stripping off her shirt revealed her gorgeous all natural breasts, and she posed topless in lots of positions in her black lacy panties, suspenders, stockings and sheer nylon pantyhose.