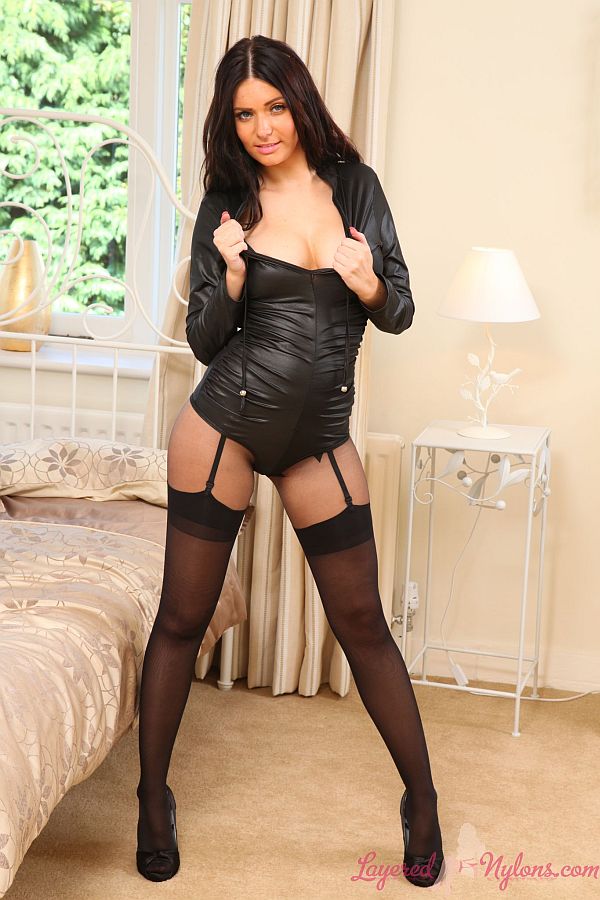 Stephanie looked stunning as she stood and posed dressed in a black 'wet look' Lycra leotard, suspenders and stockings, layered over black, sheer nylon pantyhose and heels.
Turning to give a view from the rear, we noticed how her leotard clung to her buttocks and the oval shaped opening at the back, through which was revealed the top of her waist high pantyhose. Her black suspenders stretching straight down the back of her thighs to the tops of her stockings, looked so tantalizing in contrast to the sheer black nylon of her tights.
Stephanie teasingly pulled down the stretchy front of the Lycra leotard to give a quick flash of nipple, then stripped it away to fully reveal her all natural breasts. She stood and posed topless in her black satin, pantie thong and saucy suspenders, all of which where layered under the thin, sheer nylon that sheathed the flesh of her shapely buttocks.
Stephanie removed her heels, then laying back on the bed she lifted her legs upwards, crossing them at the ankles to give a close-up view of the soles of her feet in their layers of nylon.
She stood once more and rolled her pantyhose down to reveal the sheer pattern on her suspender belt, then pulled her hose right up so they were stretched up her belly, almost to the level of her perfectly formed breasts.