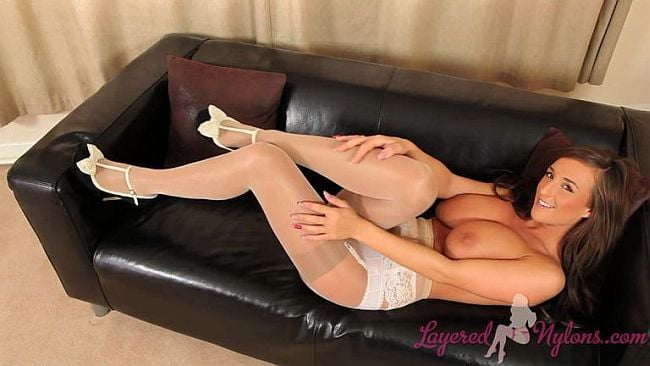 Stacey looked very sexy in her summer dress as she stood and teasingly lifted the folds to display her shapely legs in their layers of shiny nylon hosiery. The front of her dress was quite low cut and hung loose around the mounds of her breasts, which allowed her to flaunt a fair amount of cleavage.
Stacey smiled seductively as she sat stroking her legs and opened them slightly to give a view of her white pantie crotch and the tan gusset and seam, under the layer of her sheer nylon tights. She lifted the back of her dress and ran her hand over her ass sheathed in silky, shiny nylon, while she gently swayed her hips in a seductive rhythm.
Stacey turned around, lifting her dress higher to reveal white panties and a lacy suspender belt pulling taut on the tops of her tan stockings, under her silky hose. She then pulled down the top of her dress and caressed her huge, all natural breasts, which looked so sensual and voluptuous as they hung heavy down her chest.
Reclining on the sofa, she posed topless and smiled seductively, as she ran her hands all over her legs in their layers of shiny nylon hosiery.