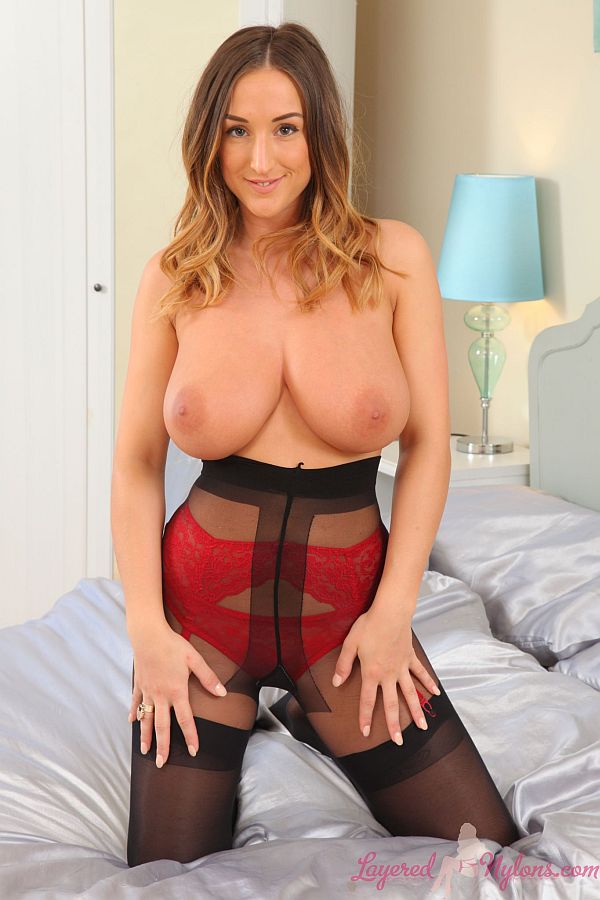 Today we see the return of busty babe Stacey P, who has attracted quite a few admirers due to her natural looks, saucy smile and superb set of breasts.
Stacey appeared wearing a bright red top, short black skirt, her legs dressed in black nylon hosiery, topped off with some matching red stiletto heels to complete her outfit.
Reclining on the bed, she lay on her side and propping herself up on one arm, stretched her long legs across the silver, silky sheets. She pulled back the hem of her skirt to reveal the straps of her red suspenders and slipped her hand between the layers of black nylon stockings and pantyhose around her thighs.
Stacey got up to stand in her red stiletto heels and bent over as she stripped the skirt down her legs, revealing the cheeks of her ass sheathed in their layer of black nylon hose. Then unzipping the back of her dress, she let it slide over her curves to uncover her voluptuous all natural breasts that hung down her chest. She turned and posed topless in her lingerie, the lacy red-suspender belt framing the matching red panties under the layer of her black nylon tights.
Slipping off her heels, she stripped off her suspender-belt, followed by her stockings and pantyhose. Then she reversed the order of dressing, finally layering the sheer nylon hose over her lingerie and stretching them up her belly, so the black gusset pulled tight around the crotch of her red lace panties.