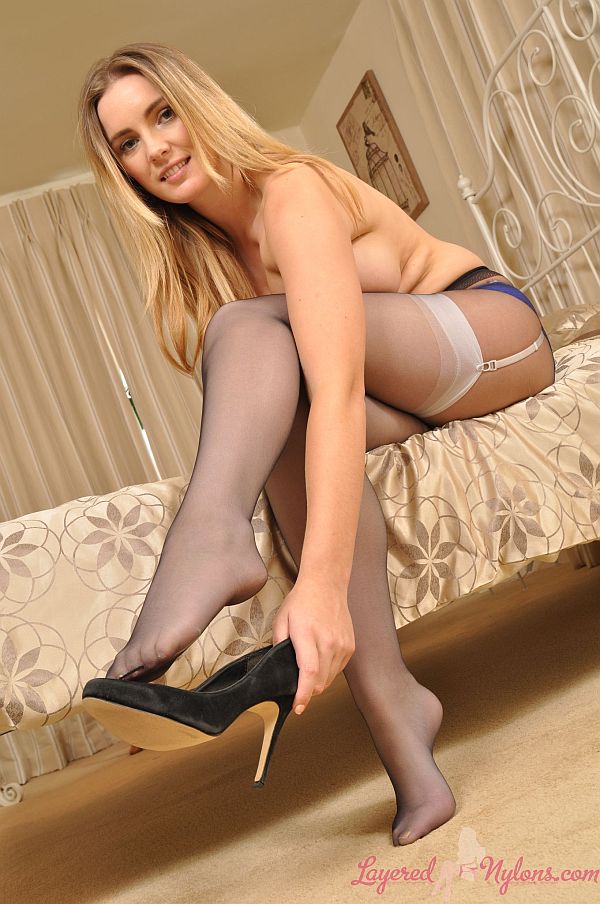 Stacey is a gorgeous busty blond and if you prefer girls with curves then she is going to make an impression when you see her stripteasing in her layers of hosiery in this photo set.
Sitting on the edge of the bed, she crossed her legs so her short dress pulled back over her thighs and revealed a glimpse of white stocking top and suspender, under the layer of her sheer black pantyhose.
Stacey stood to pull the dress up higher and reveal blue panties under her hose, then she stripped it off completely to reveal she was wearing a matching bra that supported her voluptuous breasts.
Teasing the straps of her bra over her shoulders, she held the cups in place, before finally stripping the bra away and allowing her heavy breasts to hang freely down her chest.
Stacey sat and reached down to slip off her heels, then rolled back on the bed to lift up her legs and present her feet and toes sheathed in their layers of nylon. She then got up to stand in her stockinged feet and show off her pendulous breasts as she posed in her layers of nylon pantyhose and stockings.