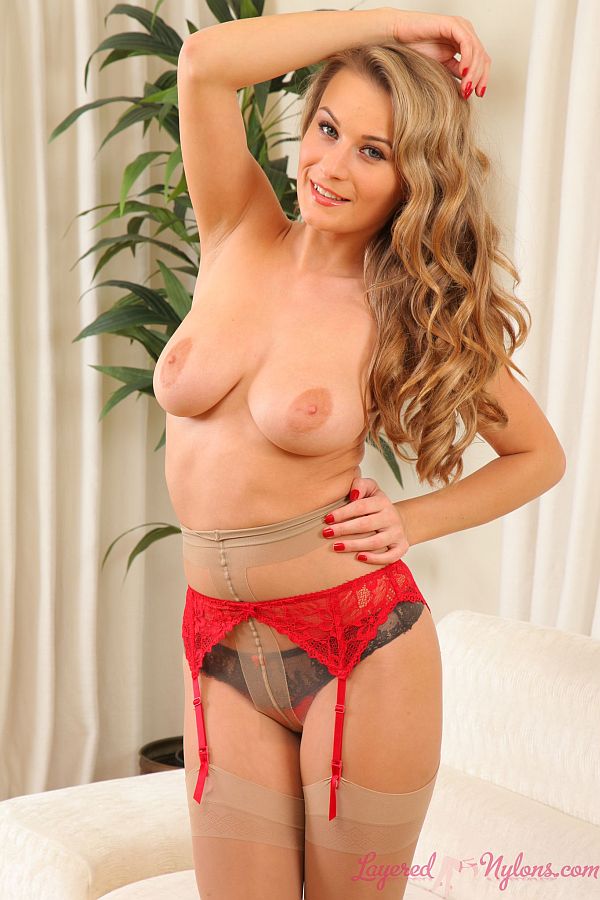 Sophie J looked so glamorous as she brushed her hands through her long blonde hair and looked over her naked shoulder. Wearing a white strapless dress, the outline of her suspender belt was faintly visible through the tight clingy material which clung to the curves of her slender body.
Her shapely legs appeared so alluring, dressed in their delicate layer of tan nylon and their length enhanced by her red, high-heeled platform shoes.
Sophie stripped off the dress to reveal she was wearing a pair of black lace panties under a layer of beige, sheer to waist nylon pantyhose, over which was layered a red suspender belt attached to the tops of her tan nylon stockings.
Sophie reclined on the sofa and slipped off her heels, then stretched out her legs and gave close up views of her pretty feet and toes in their layers of warm, dusky nylon hosiery. She then knelt and leaned forward, causing her long blonde tresses fell over her shoulder and down her chest and gently lifted her pendulous breasts under her forearms.
Sophie got up to stand in her stockinged feet and pushed her hands down the waist of her pantyhose as she posed topless in her layers of lingerie and nylon hosiery.