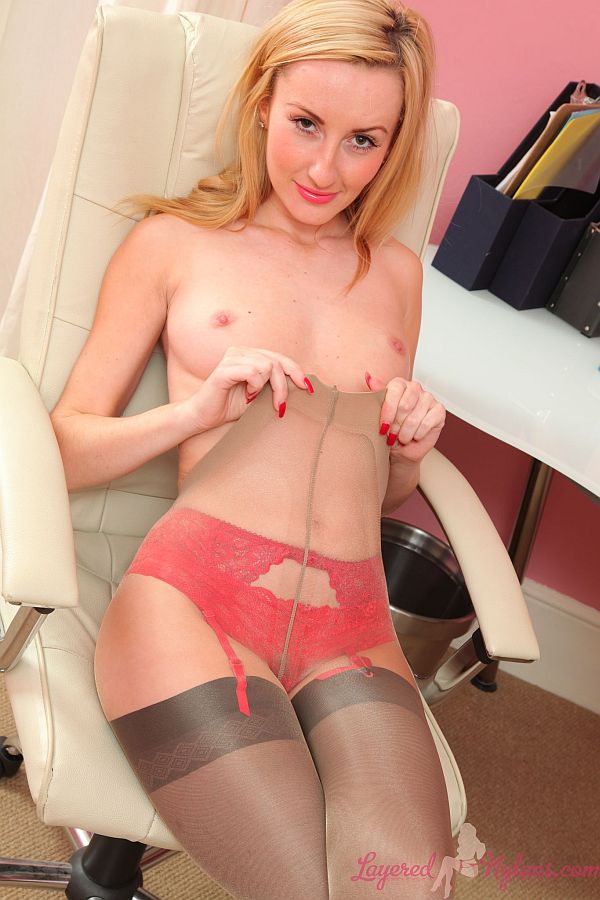 If you ever worked in an office it's likely you knew at least one sexy secretary who liked to wear stockings to work. Yes? And she probably made sure everyone knew what she was wearing by sitting so that her short skirt lifted over her thighs to give a tantalizing glimpse of stockings tops, just like today's secretary, Sophia Smith.
Sophia sat in her chair, looking in the filing cabinet with her leopard print skirt pulled back to show the delicate layer of sheer nylon hose stretched over her suspenders and stockings. Then she swiveled around and lifted her skirt even higher to give a view of her red french panties behind the layer of her pantyhose.
Sophia stood and undoing the thin, red leather belt around her waist, she unzipped her skirt and lowered it to reveal her red lacy knickers and red suspenders, attached to the tops of black nylon stockings under the shiny layer of her tights.
She stripped of her white shirt, then her red matching bra to uncover her petite, all natural breasts and posed topless in her lingerie and nylon, while she stood in her red toeless heels.
Sitting once more in her chair, she pulled on the waist of her pantyhose and stretched them up her belly, so they were pulled tight around the crotch of her red lacy knickers.