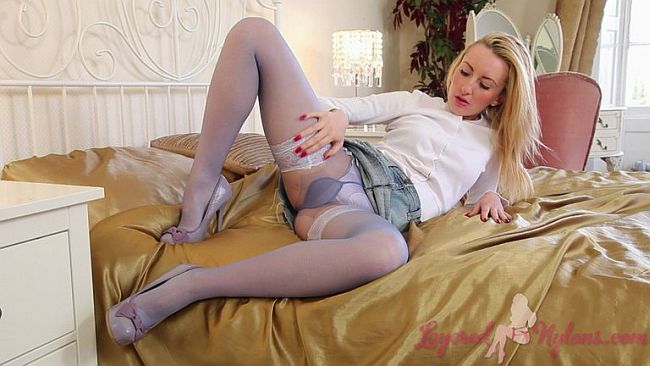 Sophia sat on the edge of the bed with her legs crossed and ran her hands over the layers of white and blue hosiery, teasing us with a view of her lacy stockings tops which appeared under the hem of her denim skirt.
She stood and bent over, looking back at us as she ran her hands up her nyloned legs, giving a tantalizing view of her pantyhose crotch under her short skirt. Her fingers brushed over her white suspenders, the taut elastic stretching around the back of her thighs, pulling on the sexy, white lace of her stocking tops.
Sophia slipped off her heels and laying back on the bed she lifted up her legs, crossing them at the ankles and displaying her small feet in their layers of nylon hosiery. Pulling back her legs and opening them wide, she drew her fingers over the back of her thighs, revealing at the same time the blue gusset of her pantyhose stretched over the pale lilac of her panties.
Sophia stripped off her top and short skirt to uncover her matching lilac bra and the white lacy suspender belt around her hips. She knelt and caressed her ass in it's layer of pale blue hose, then reached behind her back, looking over her shoulder to give a sexy smile, as she unhooked her bra an uncovered her petite, all natural breasts.
Sophia knelt on the bed and moved sensually as she posed topless and pulled on the waist of her pantyhose, stretching the gusset around the crotch of her sexy panties. Then she got up to stand in her stockinged feet and ran her hands over her body and down her legs in their layers of sheer nylon hosiery.