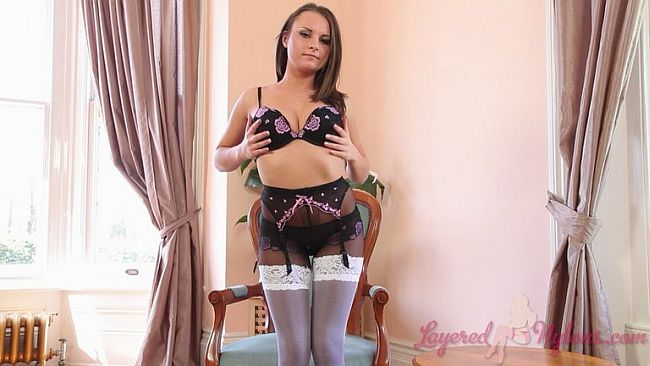 Siobhan's black mini-skirt was one of the shortest we'd ever seen and the lace tops of her white stockings looked so tantalizing as she posed in her provocative outfit.
The skirt was most definitely eye-catching and when she turned around to give a rear view, her buttocks looked so delectable in the tight black nylon pantyhose that encased her sexy ass.
Siobhan pulled the skirt up over her bum to reveal black suspenders attached to the tops of her white stockings, layered over black full-back panties, which she was wearing under her hose.
Unzipping the skirt, she teasingly pulled it down, bending slightly to emphasize the roundness of the nyloned cheeks of her pantyhosed ass. Her slender hands momentarily caressed her thighs and the tops of her shiny stockings, as the skirt slipped down her legs to pool around her heels.
Having kicked the skirt to one side, she sat and slipped of each of her shiny, leather heels and placed her dainty feet on a low, nearby table and pointed her toes. Then she lifted her loose fitting polka dot top, revealing a black bra with pink decorations, supporting and uplifting the mounds of her large breasts.
Siobhan stood to unhook the bra at the back and held her hands over her boobs as she stripped it away, before fully revealing her hard nipples and gently squeezing her tits together.
Siobhan then posed topless while standing in her stockinged feet and ran her hands over her body in sexy lingerie, white nylons and black suspenders, all nicely layered over sheer to waist, black nylon pantyhose.