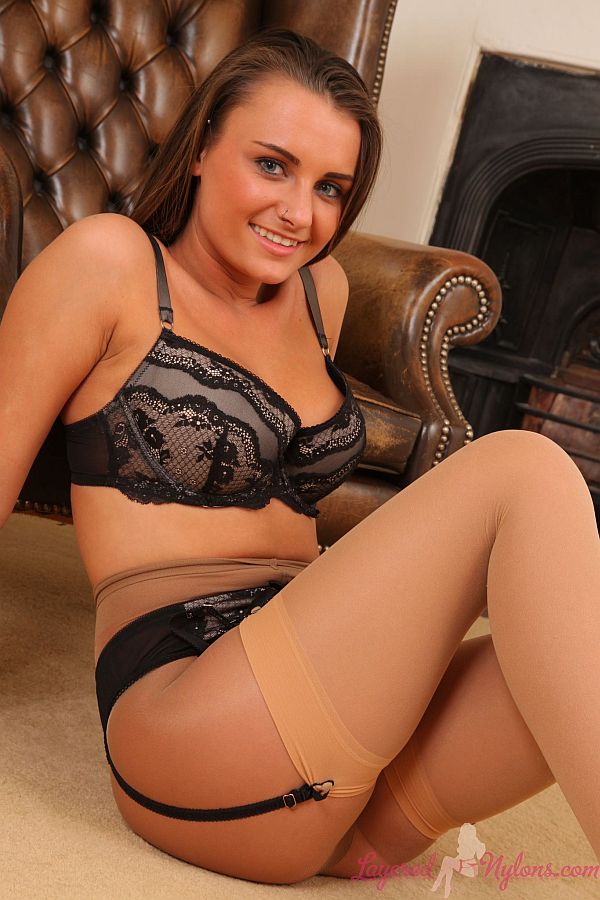 Siobhan lay back in the leather chair and kicking her heels up high, her short black skirt pulled back over her thighs and revealed she was wearing tan nylon stockings, over sheer nylon pantyhose.
Sliding her hand over her thigh, she slipped it between the layers of her tan hosiery and caused her black suspenders to stretch and pull taut on the tops of her nylon stockings.
Siobhan stood and pulled up her skirt to reveal a lacy, black suspender belt and tiny pantie thong under the sheer nylon of her tights. She turned around and unzipped the back of her skirt, then pulled it open to give us a view of her sweet bum cheeks, encased in their tight layer of dusky nylon pantyhose.
She stripped off her top and revealed a black lacy bra matching that of her suspender belt, then bent over to show off her ass and shapely legs in their layers of tan nylon.
Sitting once more, she slipped off her red heels and let them dangle from her toes, before lifting up her feet to show the underside of her soles in their layers of nylon hosiery.
Siobhan removed her bra and standing in her stockinged feet, she pulled on her pantyhose and stretched the waistline up her front, until they were almost up to the level of her naked all natural breasts.