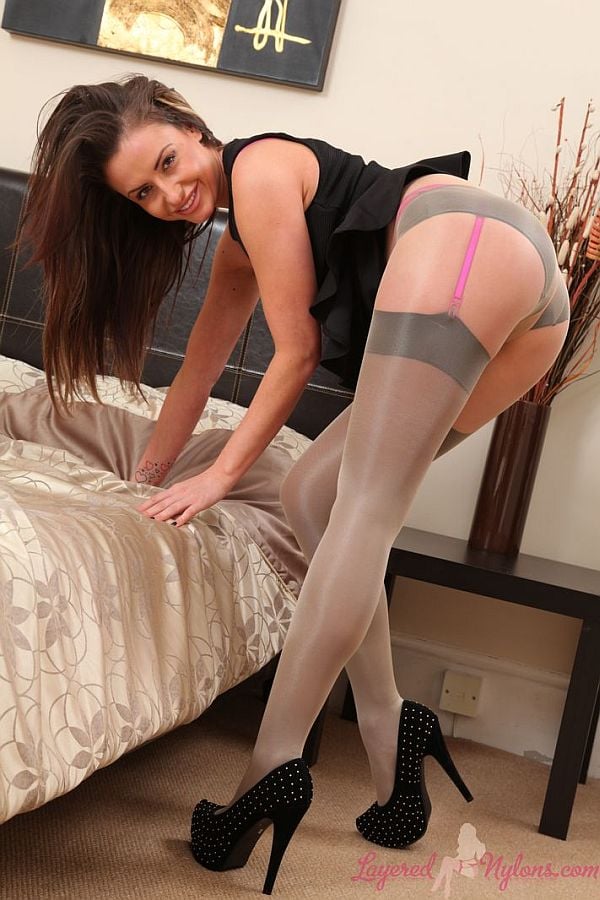 Sarah looked set to party in her all-in-one black dress, her legs clad in shiny nylon hosiery and a pair of diamante decorated heels on her feet.
We could see the bumps of her suspenders under her tight fitting dress, which was just short enough to show the tops of her black stockings around her thighs. Her hose so shiny, the light reflected up her legs in vertical shimmering bands, as she turned to give us a view of her ass and posed in her heels.
Kneeling on the bed she lifted up the back of her dress, revealing her ass clad in shiny beige-tan nylon, under which she was wearing black full-back panties and hot pink suspenders pulling taut on her stockings.
Sarah took off her dress to uncover her pretty multi-coloured bra and sliding the straps over her shoulders, she held the cups in place, then finally stripped it away to reveal her all natural breasts.
Having slipped off her heels, Sarah lay back on the bed and lifted up her legs, crossing them at the ankles to show off her feet in their layers of nylon. She then stood in her stockinged feet and stretched the waist of her pantyhose up her belly almost to the level of her breasts.