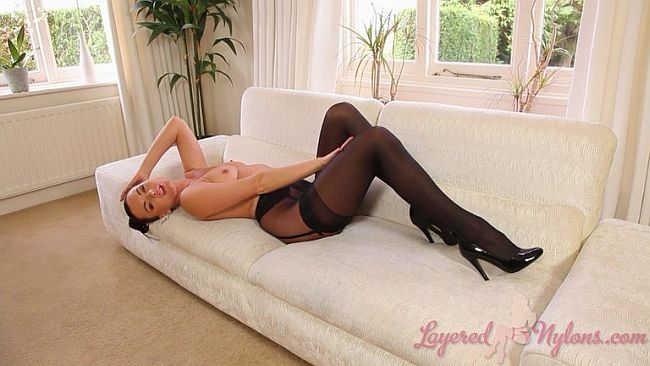 'Hi, I'm Sandra and I'm here again for you,' said our alluring eastern European beauty in her most seductive voice, as she posed in her tight fitting, elegant dress, black nylon hosiery and shiny black heels.
Sandra demonstrated how to tease the right way by running her hands over the curve of her ass, while swaying her body in a seductive rhythm. She deliberately brushed her thighs together so the black tops of her stockings moved tantalizingly below the hem of her short, blue dress. Then turning, she pulled up her dress at the front, revealing the thin wisps of pubic hair, faintly visible though the sheer nylon crotch of her black pantyhose.
Sandra sat and caressed her legs, rubbing them together and causing the nylon of her hose to faintly whisper as her limbs glided against each other. Then she lay back and opened her legs wider, moving her hands in a sensual sweep around her inner thighs and over the sheer, oval gusset patch, stretched around her crotch.
Sandra stripped off her dress then pushed her hand down the front of her pantyhose, sliding her palms against her thighs and around the hair of her pubic mound. She gracefully removed her bra and exposed her all natural breasts, then lay back and extend her legs upward to slip off her heels and point her stockinged feet and toes.
Sandra sprawled semi-naked on the sofa in her lingerie, pulling on her pantyhose as she rolled from side to side and posed topless in her sexy layers of sheer nylon hosiery.