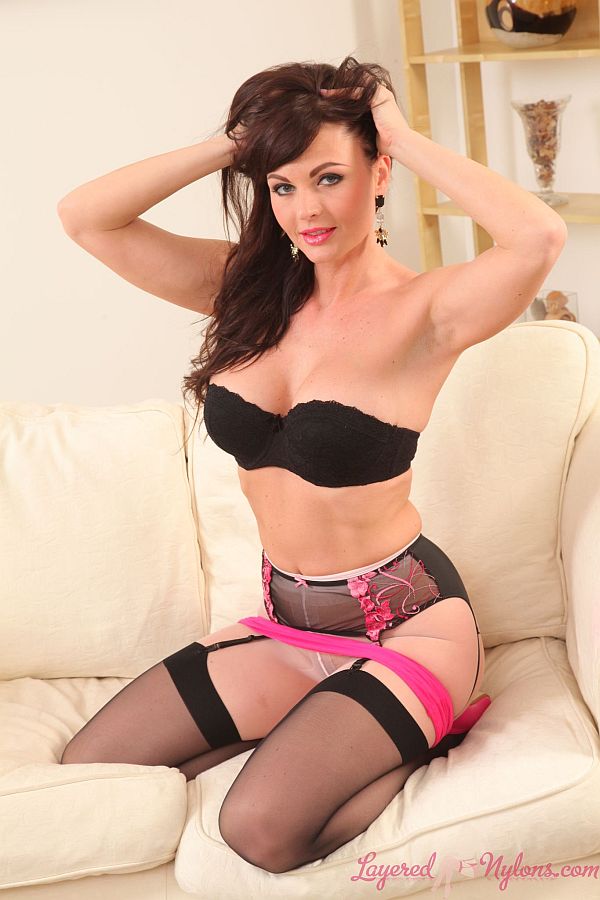 Sandra is a stunning looking brunette, dressed in a tight fitting back top, short pink skirt and legs in black sheer hosiery, a matching pair of candy pink heels, she looks stunning in her latest photo-set.
Sandra turned with her back to us, hands on hips and legs set apart so her skirt wrapped tight around her thighs. The skirt is so short it offered a tantalizing glimpse of her black stockings tops just below the hem, and an up-skirt view of the white gusset of her pantyhose stretched between her thighs.
Sandra knelt on the floor on one knee and lifted her leg to place her other knee on the cushion of the sofa, then pulled up the back of her skirt, revealing the layer of white pantyhose under her black suspenders and stockings. She looked back over her shoulder, the pink lipstick of her mouth glistening as she pouted and grabbed the cheeks of her pantyhosed ass.
Sandra stripped off her top by pulling it over her head, and the locks of her long brunette hair fell loosely about her shoulders as he revealed a black strapless bra around her chest. She then stood and pulled the pink skirt over her ass and down her long, shapely legs in their black stockings. Falling back onto the sofa she kicked up her legs and stripped the skirt over her sexy, pink stiletto heels.
Standing, her arms lifted behind her head as she posed in her lingerie, we noted that she was actually sans panties under the layer of her white nylon pantyhose. The black sheer nylon suspender-belt, and it's pink floral embroidered pattern, looked so pretty around her waist, and the suspenders attached to her stockings drew attention to the area of her pantyhose crotch.
Having removed the bra, she reclined on the sofa to fondle her breasts and pushed her hand down the front of her pantyhose so it covered her nakedness. Finally, she slipped off her pink heels and lifted her legs so she could perfectly balance the shoes between the pointed toes of her feet in their layers of sexy, nylon hosiery.