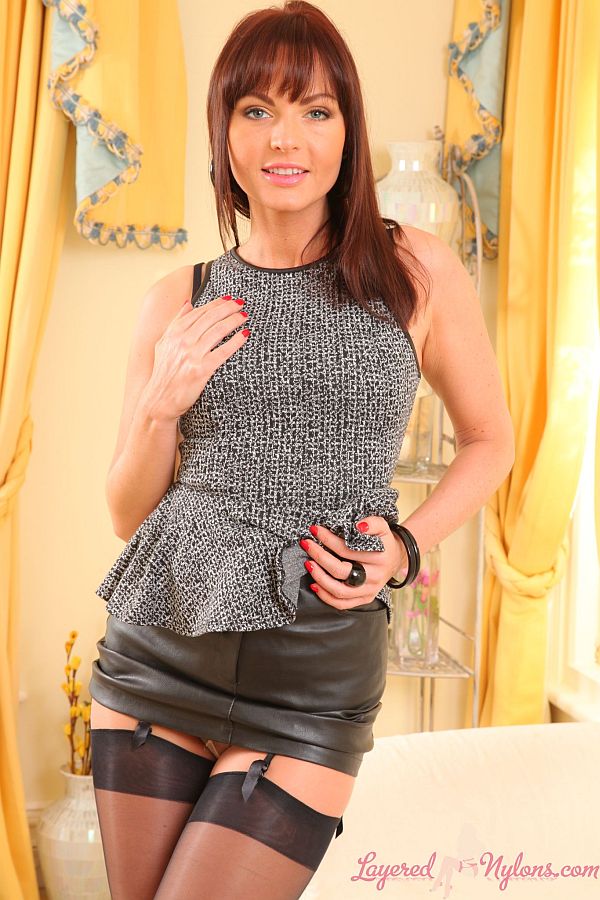 Beautiful brunette Sandra looked so hot and sexy in her grey top and short leather skirt, which hardly covered the tops of her black nylon stockings.
She turned around and leaned forward, pulling up the back of her skirt and moved her hands of the cheeks of her fabulous ass sheathed in a layer of tan nylon pantyhose. Her long black suspenders stretching over the surface of her hose and around the the curve of her buttocks, pulled on the tops of her stockings.
Sandra sat on the sofa and opened her legs to give and upskirt view and reveal that she was sans panties under her hose. The tantalizing glimpse of trimmed pubic hair behind the reinforced beige-tan, sheer nylon gusset looked so sexy and alluring.
Sandra lifted off her top to show she was wearing a black bra with pretty pink roses, then pulled down the tight fitting skirt over the cheeks of her ass and uncovered the black, sheer nylon suspender belt around her hips. She slipped the straps of her bra over her shoulders and teasingly held the cups in place over her breasts before finally removing it and posing topless in her lingerie and nylons.
Reclining on the sofa, she lifted up her legs and eased off her heels each in turn, then posed in different positions with her legs open, pointing and displaying her pretty feet in their layers of nylon.