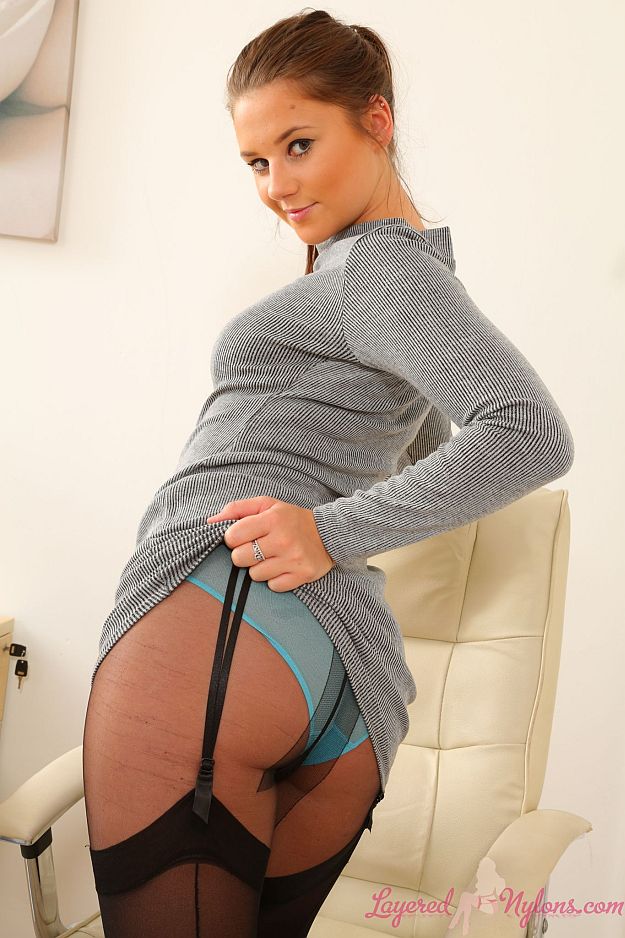 Secretary Saffron is quite the perfect looking secretary, wearing her hair up on a pony tail, grey fitted dress clinging suggestively to the contours of her body, her legs clad in black nylon hosiery. She looks very smart indeed, while she poses demurely in her dress, a saucy smile lighting up her pretty face in anticipation of performing her sexy office striptease.
Sitting in her swivel chair she lifts her legs up to rest on the desk, her dress pulled back to reveal shapely thighs clad in black nylon pantyhose and stockings. She slides her hand between the layers of nylon hosiery, causing the suspenders to pull taut and stretch on the tops of her black seamed nylons.
Saffron takes off her suede ankle boots and stands in her stockinged feet while she strips the dress over her head, revealing a turquoise blue, lacy bra supporting her boobs. A designer suspender-belt made of thin black straps clings to her hips and the suspenders attached to her stockings strain with tension, perfectly framing the matching blue lace pantie thong under her sheer nylon tights.
Saffron gives us a saucy smile while teasing the straps of her bra over her shoulders, then strips it away to expose the soft mounds of her petite and natural breasts. She kneels in the chair to show off her fabulous buttocks sheathed in panties and sheer nylon hose, while sliding her thumbs under the taut suspenders that tug on her sexy, stockings tops.