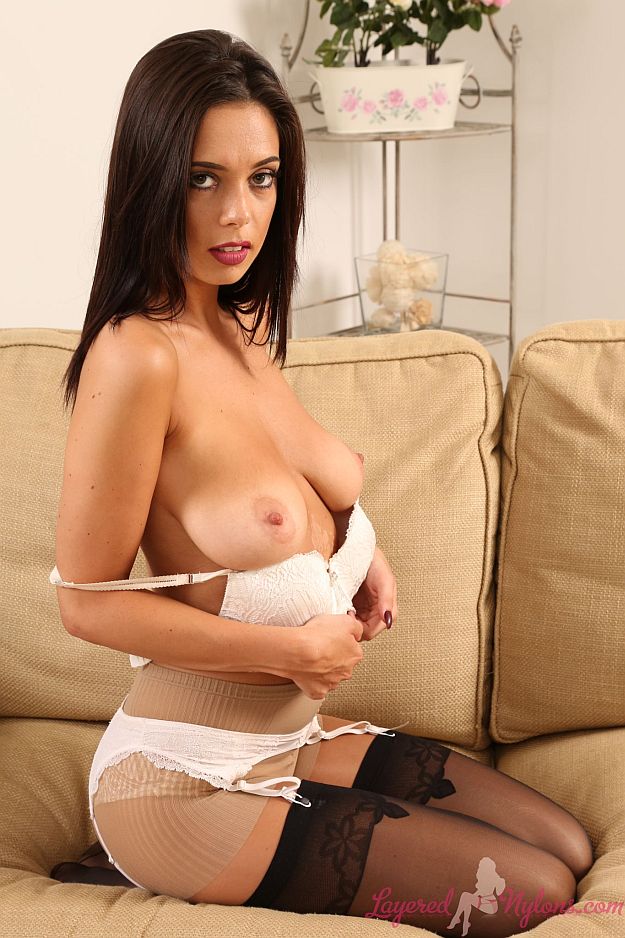 Brunette babe Roxy lounged causally on the sofa, one leg crossed over the other so her short denim skirt revealed the tops of her black stockings.
Roxy rolled over onto her front and looked over her shoulder, then folded back her lower legs and crossed them at the ankles to show her heels. She sat and looked up at us with her beautiful doe eyes and pulled down the front of her top to give a glimpse of her ample cleavage.
Roxy stood and unzipped the front of her denim skirt and pulled it down, revealing the white lacy suspender-belt and kickers under a layer of beige-tan pantyhose. She stripped off the top and posed in her white lace bra which matched the suspender-belt attached to her black designer stockings.
Roxy posed on the sofa in her lingerie, sliding the bra straps over her shoulders and down her arm, then stripping it away to reveal her peachy breasts and thick, erect nipples. She got up and stood in her stockinged feet, posing topless and turning to show off her slender figure in suspenders, stockings and pantyhose layers.