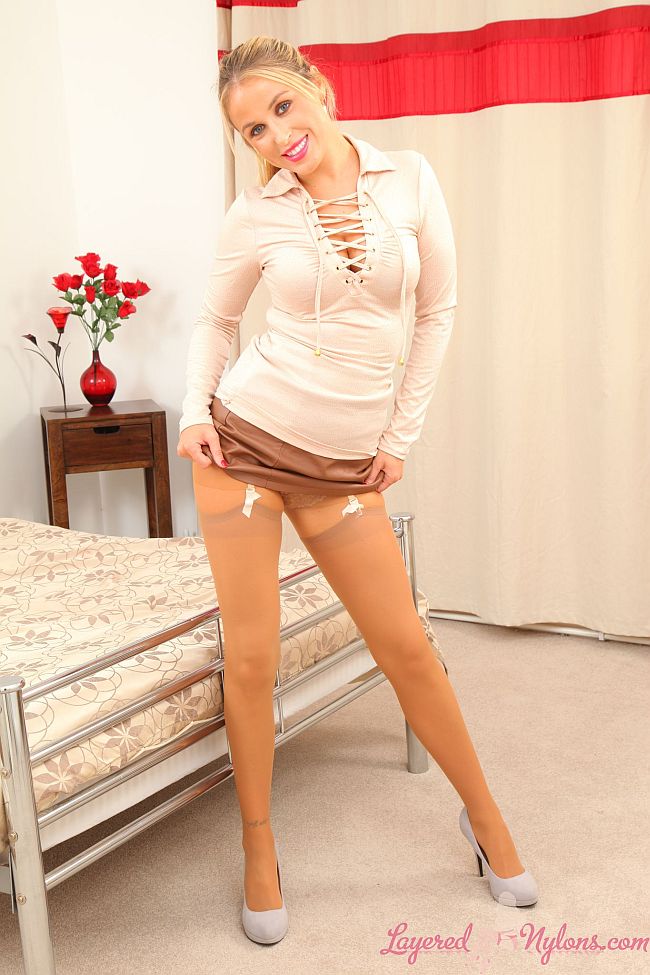 Rosie looked very sexy as she posed in her pink lace up top, opened at the front to give a glimpse of her cleavage, a brown leather skirt and her legs in beige-tan hosiery and feet in grey heels.
Unzipping the front of her leather skirt, she let is slide down her legs to the floor and stepped out of it to reveal she was wearing lacy French knickers, white suspenders and tan stockings under the layer of her sheer nylon pantyhose.
Rosie crossed her arms and pulled the top over her head, revealing a lilac colored bra with white lace trimmings and a white, sheer lace suspender-belt around her hips. She bent over to give a view of the lacy knickers clinging to the cheeks of her ass and the taut suspenders straining on the tops of her tan stockings.
Rosie gave a seductive look back over her shoulder and slipped the bra straps down her arms, then turned and held the cups in place, before stripping it away and revealing her all natural breasts with their pink nipples.
Rosie sat and dangled her heels from her feet before slipping them off, then climbed onto the bed and opened her legs to give a view of her pantie crotch. She lay back and lifted up her legs, crossing them at the ankles to give a close up view of the soles of her feet in their layers of tan hosiery.