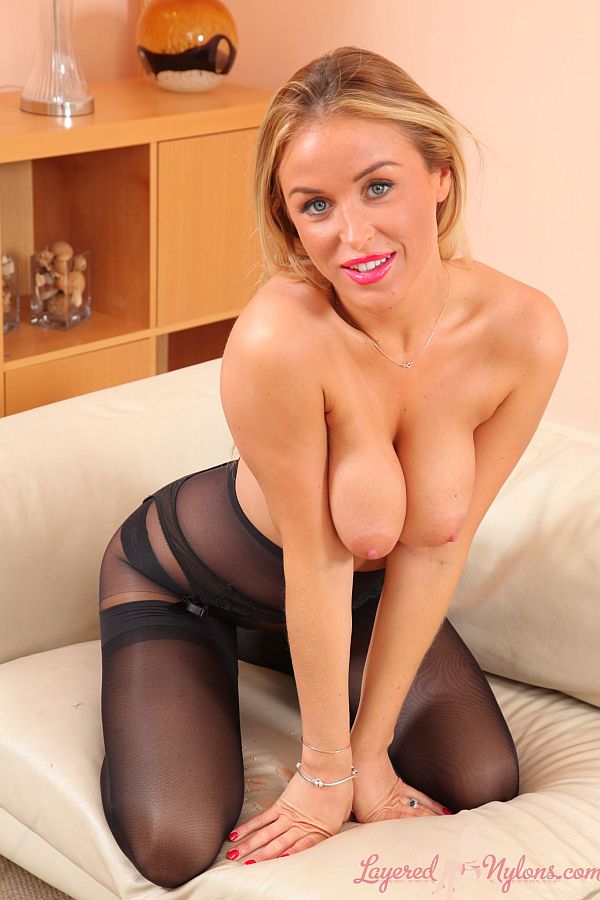 Rosie was wearing an incredibly tight, blue silk dress, which almost adhered to the shape of her breasts, hips and ass. Posing with hands around her hips, the distinct outlines of her suspenders were noticeably visible through the material of her dress, as she turned to show off the curves of her feminine figure.
Sitting on the arm of the sofa with her long legs crossed, she slowly pulled back the hem of the dress to reveal she was wearing a layer of black suspenders and stockings over her pantyhose.
Rosie hooked her thumb under one of her suspenders and stretched it away from her thigh, making it strain on the top of her black nylon stockings, then allowed it to snap back into place against her pantyhosed leg.
Stretching out on the sofa, she slipped the flat of her hand down the top of her stockings between the layers of nylon, then removed it and caressed the length of her long slender leg in their hosiery and heels.
Rosie stripped off her dress to reveal to she bra-less and wearing a lacy black suspender belt, that clung to her hips, plus a pair of black lace panties worn under her sheer to waist pantyhose.
Slipping off her heels, she allowed them to dangle awhile from her toes, before removing them completely and getting into a kneeling position. She then sat back on her legs to display the roundness of her sexy ass sheathed in black, sheer nylon and the soles of her feet in their layer of pantyhose and stockings.