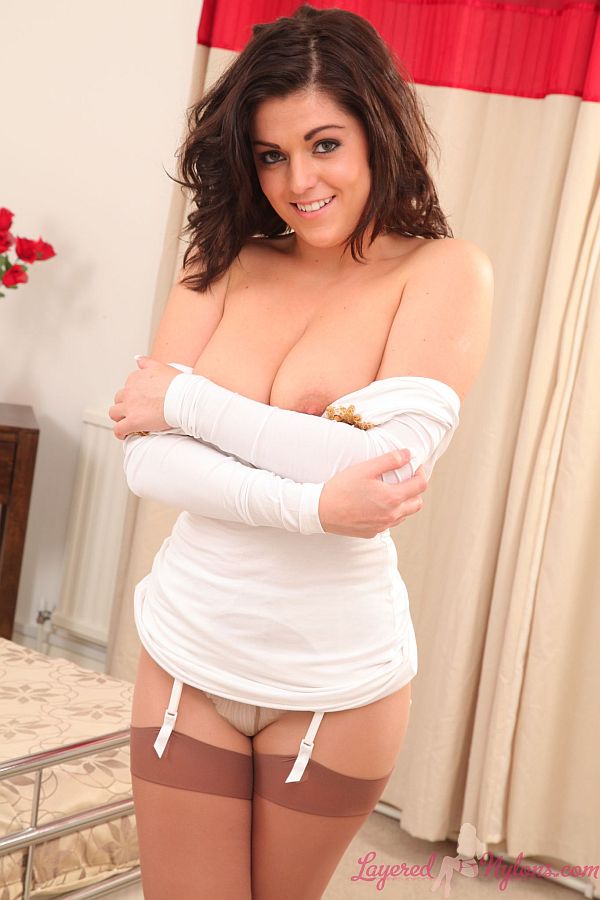 Rosie Rees smiled as she posed in her clingy white cotton dress, so tight, you could see her white suspender belt under the material, her legs clad in tan nylon stockings and her feet in cream colored heels.
Rosie looked very alluring in her sexy outfit as she lay on the bed, pulling up her dress to give tantalizing glimpses of her suspenders and stockings, layered over some fine nylon pantyhose.
She knelt and crawled playfully over the bed, giving a view of her lovely ass and sexy stocking tops that appeared from under the hem of her dress. She slipped her fingers down the tops of her stockings and sensually stroked the layer of soft nylon hose that covered the flesh of her thighs.
Rosie stripped off the stretchy, white cotton dress, revealing her all natural breasts, the white suspender belt around her hips and the suspenders attached to her stockings, all nicely framing her white panties under sheer nylon pantyhose.
Sprawling on the bed, she posed in her lingerie and flaunted her gorgeous boobs, then lay back and crossed her legs to slip off her heels and display her feet in their sensual layers of nylon hosiery.