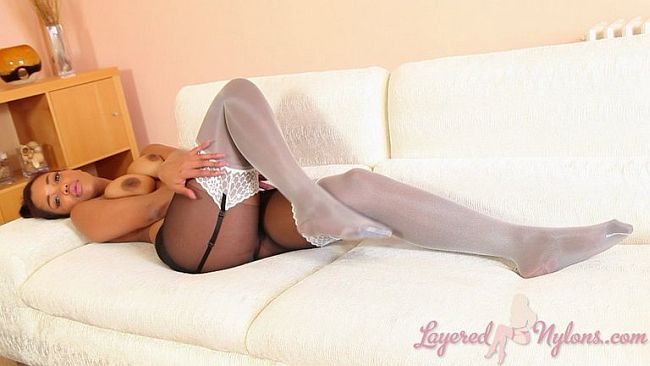 Rehea lifted her tight dress up her thighs to reveal she was wearing white, opaque stockings with pretty lace patterned tops, layered over over black nylon pantyhose.
She stripped out of her dress to reveal a modern turquoise bra supporting and pushing together the mounds of her big boobs. Stepping out of the dress she turned to give a view of her gorgeous bubble-butt encased black panties under the layer of sheer black nylon.
Rehea moved her hands over her ass and curvaceous hips, around which she was wearing lacy black garter belt, the suspenders stretching around her shapely buttocks and pulling taut on the tops of her lace topped stockings.
She reached down and ran her hands all over her white stockings, which looked like shiny satin in the way they reflected bands of light as she moved her legs.
Rehea reached round her back and unhooked her bra and let it slip down her arms as she removed it and turned to show her all natural breasts with their big brown nipples.
Rehea then slipped off her shoes and posed topless as she lay on the sofa caressing her legs and feet in their layers of shiny nylon stockings and pantyhose.