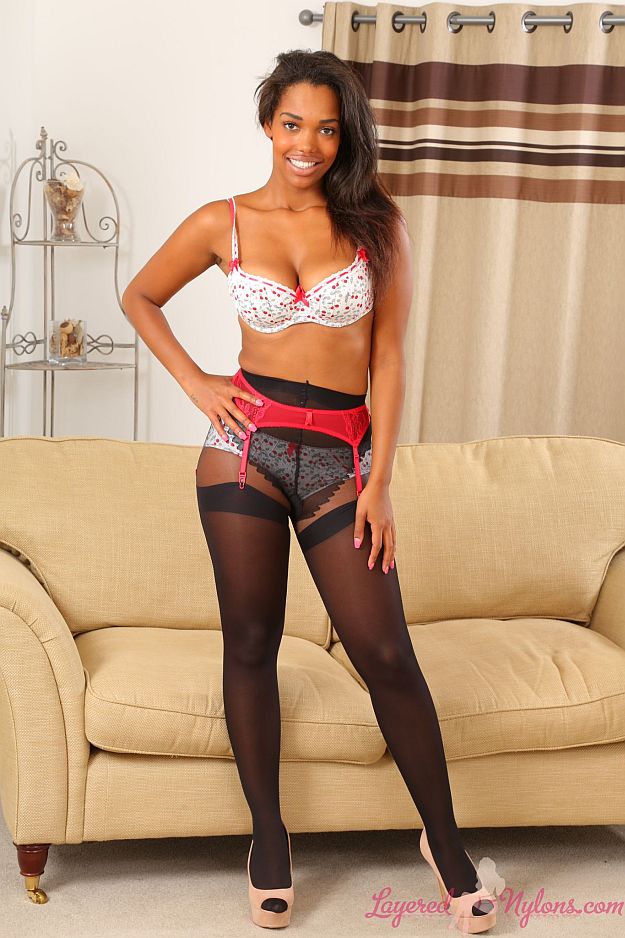 Pretty ebony babe Rehea made a striking impression as she posed in her tight fitting red top, black pencil skirt and pink heels. Her large breasts thrusting against the stretchy material of her top, her rounded buttocks nicely defined by the black skirt that clung to her lovely ass.
Rehea lifted up her skirt to reveal a red suspender belt, the taut suspenders attached to black stockings, framing a pair of light-colored panties under black sheer nylon pantyhose. She turned around to show the sheer, heart shaped pattern in the seat of her hose and her cotton panties clinging to the curve of her shapely buttocks.
Rehea stripped off her skirt and lifted the red top over her head, revealing a while cotton bra decorated with red cherries, matching the full-back panties under her hose. Sitting down on the sofa she slipped off her shoes, then lay back and lifted up her legs, crossing them at the ankles to show her nyloned feet in close-up.
Teasing the bra straps over her shoulders, Rehea stripped the bra away and her beautiful ebony breasts swung free and hung from her chest.