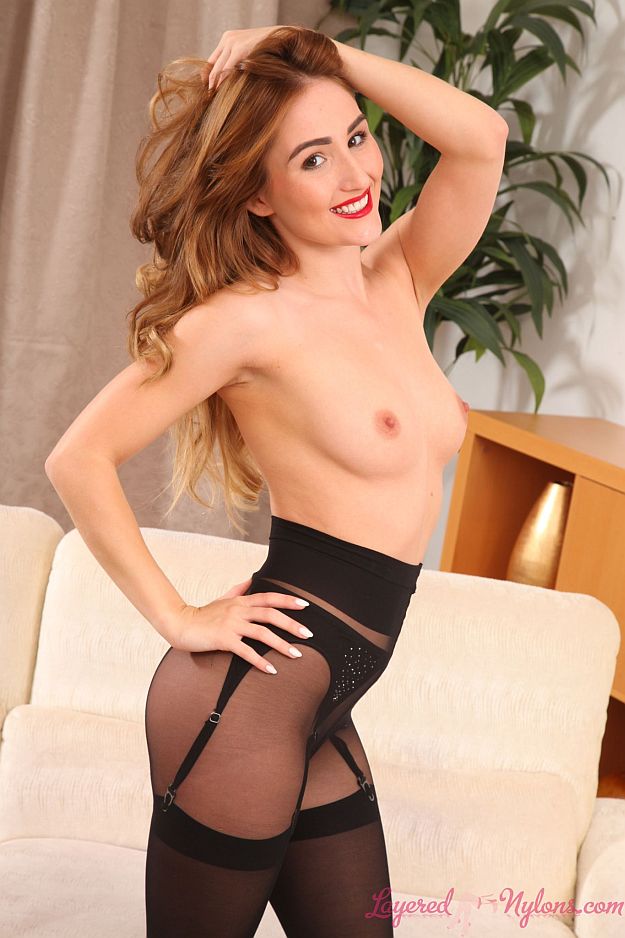 Rachelle looked ravishing as she ran her hand through her lustrous long red hair and posed like a pin-up glamour girl in a classic, polka dot dress, black nylons and patent leather stiletto heels.
Rachelle stood and lifted one foot off the floor to kick back her stiletto heel, then gently rubbed her nylon covered legs together her so stockings softly whispered.
Pulling up the back of her dress revealed suspenders with metal clasps attached to black stockings, under a layer of sexy seamed nylon pantyhose. The shape of her ass looked fabulous in hose; her taut suspenders stretched around her thighs pulling taut on the tops of her nylons.
Rachelle unbuttoned the front of her dress and pulled it open to expose her slender body and petite, all natural breasts. Then she stripped off the dress and turned to face forward, posing topless and revealing she is sans panties behind the crocth of her sheer nylon pantyhose.
Rachelle sat on the sofa with one leg crossed over the other and slipped off her heels and let them to dangle from her nyloned toes. Taking off her heels she lay on her back and swung her legs up high, crossing them at the ankles to give a view of her pretty feet in their layers of black hosiery.
Rachelle finished by standing in her stockinged feet and gave a saucy smile as she pulled up the waist of her pantyhose so the nylon stretched over her naked tits and tight around her crotch.