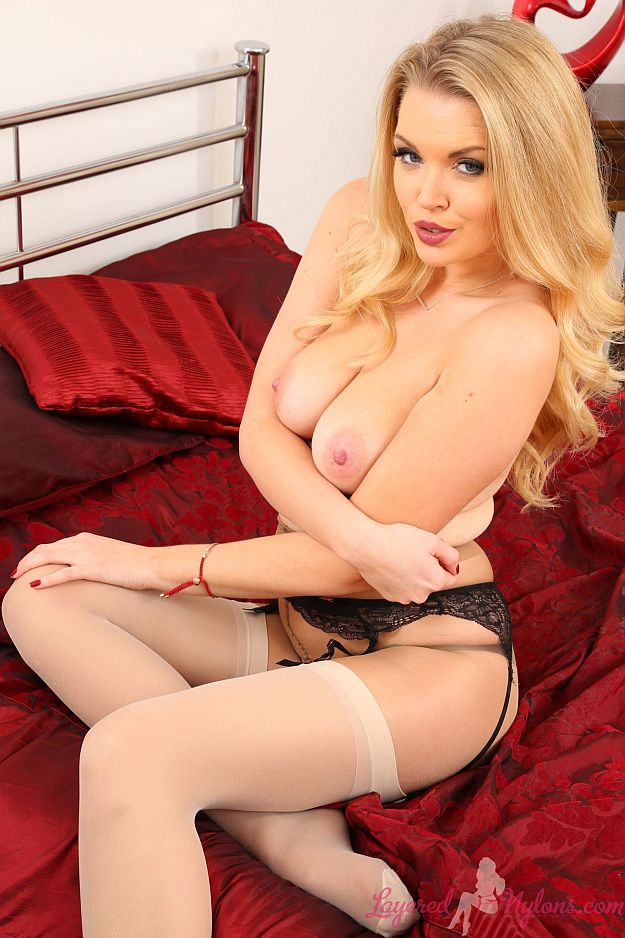 Porchia W looked so delectable as her long blonde hair cascaded loosely over her shoulder while posing in her sheer nylon blouse, tight sequined skirt, light colored hosiery and black heels.
Reclining on the bed she crossed her legs and kicked up her heels, giving a quick flash of her beige-tan pantyhose gusset between her closed thighs. Her black suspenders layered over her hose, stretched as she moved her legs and strained on the tops of her cream colored stockings.
Porchia stripped her skirt down her legs and kicked it away, then knelt on the bed and unbuttoned the front of her lace trimmed blouse to reveal her peachy, all natural breasts. She stripped off the blouse and ran her hands through her hair, then got up to stand by the bed and posed topless in her layers of lingerie and nylon hosiery.
Standing with her hands around her hips, the delicate black lace suspender-belt and black suspenders attached to her stockings, framed the pretty pantie thong that showed through her sheer nylon tights.
Porchia sat on the bed and removed her heels to run her fingers over the soft layers of nylon that enclosed her pretty feet and toes. She opened her legs to show the taut pantyhose gusset stretched over the crotch of her panties as her fingers slipped under the cream colored tops of her stockings around her thighs.