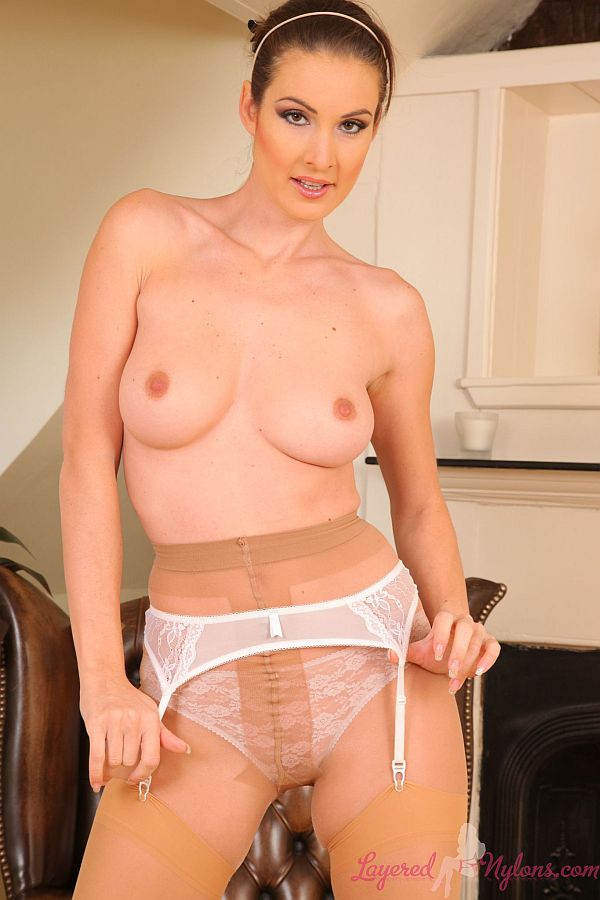 Petra V has lovely long legs, which appear to go on for ever and looked especially so while wearing a short dress and beige tan stockings, layered over sheer nylon pantyhose in this set.
Petra stood and lifted her dress, teasing us with a flash of her white suspenders attached to the tops of her tan nylon stockings. Then turning to kneel in the chair, she lifted the dress at the rear to reveal her suspenders layered over her hose, under which she was wearing sexy, white lace panties.
She lifted the dress at the front to fully display her white suspender belt around her hips, the taut suspenders stretching down her thighs to the tops of her stockings, framing the triangle of her lace panties.
Petra allowed her dress to slide down her legs and stepped out of it, then kneeling on the floor she teased out of her white bra and revealed the mounds of her petite, all natural breasts.
She hooked her thumbs under her taut suspenders and pushed them outward so they pulled on her stocking tops, then sat and dangled her heels from her nyloned toes.
Finally, she knelt at gave a view of her ass sheathed in it's layers of nylon and panties, then slipped her fingers down the tops of her stockings as she displayed the soles of her sexy stockinged feet and toes.