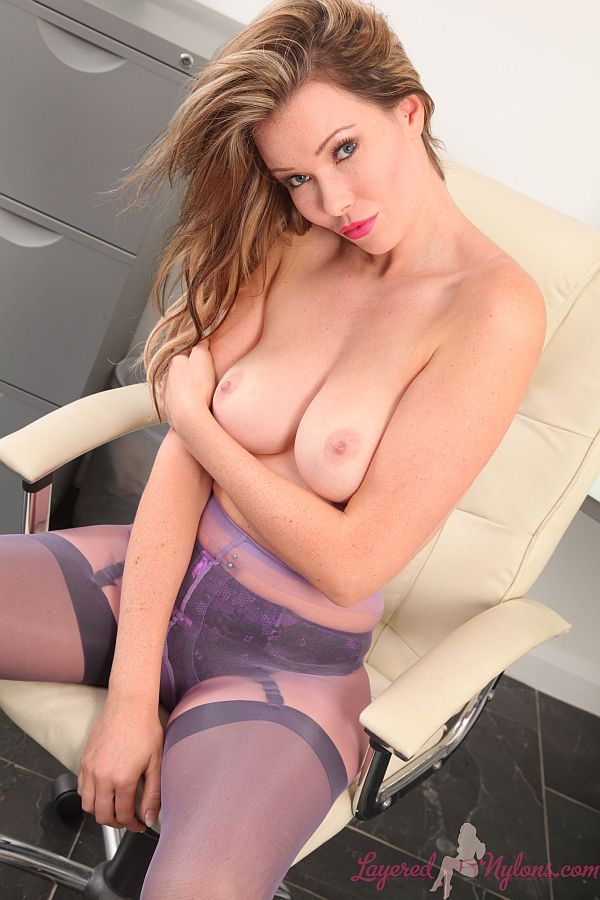 Secretary Nicky sat at her desk with her legs crossed and her short skirt pulled back over her thighs, revealing the tops of her black stockings, under a layer of sheer nylon pantyhose.
Nicky swiveled in her chair and looked up, a slight smile curling at the edge of her lips as she knowingly teased us with that tantalizing view of her nylons. Then she stood and lifting one knee on top of the desk, pulled up the back of her skirt to show her ass sheathed in shiny nylon hose, layered over black suspenders that pulled taut on her stockings tops.
Nicky looked back over her shoulder and gave a sexy look as she stripped her skirt over her fabulous ass and down her legs to her open-toed heels. Stripping her top over her head, revealed a lacy black and purple bra, matching the suspender belt and panties she was wearing under the layer of her plum coloured tights.
Nicky sat in the chair and unbuckled her heels, then slipped the straps of her bra over her shoulders and stripped it off to uncover her all natural breasts. Getting up to stand in her stockinged feet, she pushed her hand inside her pantyhose and over the black suspenders that stretched down her thigh and pulled on her stocking tops.