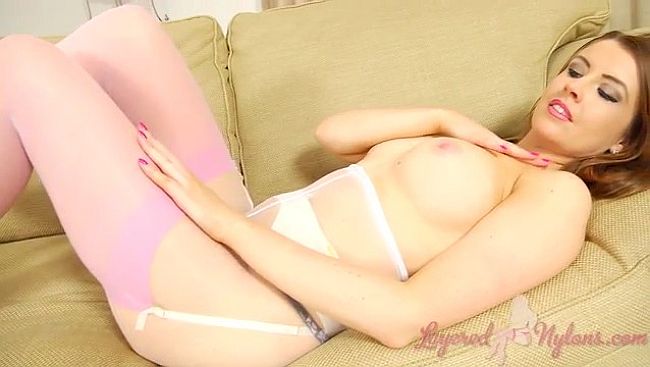 Nelly looks pretty in her pink flared dress as she lifts it up to reveal contrasting white suspenders and pink stockings, under a layer of tan sheer nylon pantyhose.
Her low cut dress shows a nice amount of creamy cleavage as she reaches down to her ankles and her draws her hands up her legs in their soft pink layers of nylon hosiery.
Nelly stands and sways gently as she slips the straps of her dress over her shoulders and strips it off, revealing a black and pink floral patterned bra supporting her boobs. The dress slides down her legs and she steps out of it to reveal matching floral panties and the white suspender belt under her tan nylon pantyhose.
Nelly gives us a beautiful smile as she pulls and stretches her pantyhose around her waist, swaying sensually as she turns to kneel on the sofa. She runs her hands over the cheeks of her ass, sheathed in it's layer of white, sheer nylon hose, under which we see the 'whale tail' of her pantie thong.
Nelly reaches behind her back to unhook her bra, then strips it away to uncover her all natural breasts and gorgeous pink aureola and nipples. Uplifting her breasts in her hands, she pushes and allows them to separate as she fondles her lovely boobs and poses in her layers of lingerie and nylon.