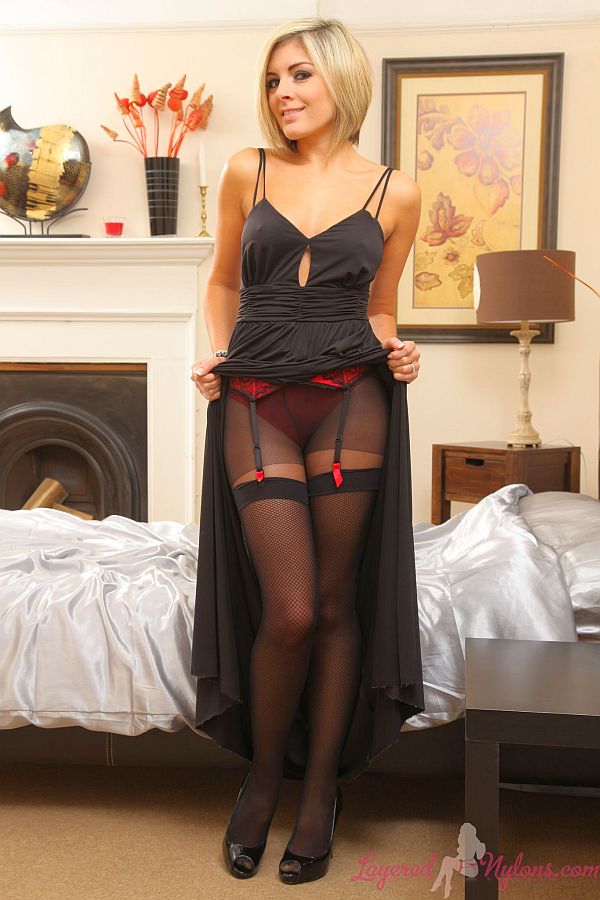 Naomi K looked very elegant and sexy in her long black evening dress, displaying a bit of cleavage behind the low cut front and a her leg in black fishnet nylons through the side slit.
Kneeling on the bed she slowly teased her dress up her thighs, revealing black suspenders with striking red ribbons attached to the tops of her stockings.
She stood and parted the folds of the dress and lifted it higher to reveal a red satin, suspender belt, the black suspenders framing red panties, which she was wearing under a layer of black, sheer nylon pantyhose.
Naomi bent over to give a view of her ass sheathed in black nylon hose, black suspenders framing her ass and the thin triangle of her panties, which disappeared between the cleft of her buttocks. Then she let her dress slide down her body as she stood, revealing her all natural breasts with their thick round nipples, while she posed topless in her layers of sexy lingerie and nylon.
Naomi lay on the bed displaying her long legs in their layers of black hosiery and slipped off her shiny, stiletto heels. She lifted her legs up and displayed the soles of her feet encased in black nylon, then stretched the waist of her pantyhose up her belly so the gusset was pulled tight around her pantie crotch.