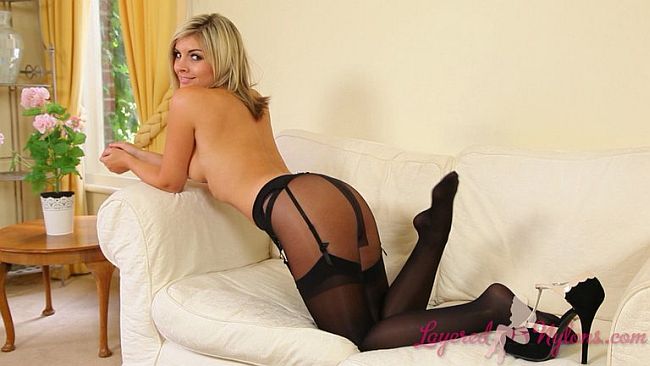 'I thought I'd try on my new play-suit today, but I couldn't decide if I wanted to wear tights or stockings, so I thought I'd treat you and wear both,' Naomi said, lifting her skirt slightly to give a teasing glimpse of what lay underneath.
Naomi looked very cute as she posed in her dress with it's loose fitting, low plunge neckline and short black flirty skirt, her legs in black hosiery and a pair of fetching heels.
Slipping the thin white straps of her dress over her shoulders, it fell away and exposed her shapely, natural breasts, which tapered in an upward curve  to her pointed nipples. She pulled the top half around her waist and slipped the remainder of her dress down her legs, revealing her black suspender belt and stockings, layered over sheer nylon pantyhose.
Naomi knelt on the sofa and slipped off her heels, folding her legs back at the knees and pointing her feet and toes encased in their layers of black nylon. She reclined and lifted up her legs to admire how the looked, stretching them vertically and drawing her hands back over the shiny nylon of her black hosiery.
Naomi pushed her hands between the layers of nylon and caused her suspenders to pull taut on the tops of her stockings, which made a swishing sound as she brushed her legs together in their layers of stockings and pantyhose.