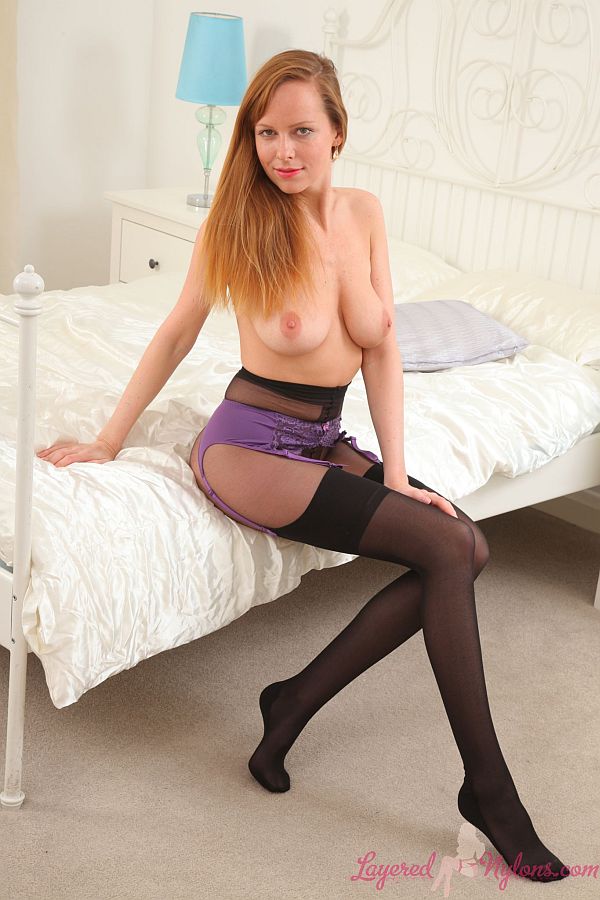 Luscious redhead Monika is looking cool and sexy in her black stockings, pantyhose and purple suede heels in her latest teasing photo-set.
Monika knelt on the bed and a flash of stocking tops appeared below the flared hem of her floral summer dress as she crawled over the covers. She rolled over onto her back and her lustrous red hair spread against the pillow as she lay her head against it.
She lifted up her legs in their black, seamed nylon stockings and crossed her ankles, the stilettos of her purple heels pointing vertically. The folds of her dress fell around her hips, revealing the purple straps of her suspender-belt attached to the top of her stockings, layered over the black nylon pantyhose around her thighs.
Monika stood and lifted the flared dress to show the cheeks of her fabulous ass sheathed in black nylon hose. Then she bent right over and placed her hands on the bed to support herself and the taut, purple suspenders, stretched around her buttocks and pulled up the black welts of her seamed nylon stockings.
Reclining on the bed once more, she pushed her hand between the layers of her pantyhose and stockings, then carefully slipped off her heels and balanced them between one foot and the stockinged toes of the other. She took off the heels, then knelt and stripped the dress over her head to reveal her gorgeous all natural breasts and their soft, pink puffy nipples.
Monika pushed her hands down the rear of her pantyhose and under the purple suspender-belt and spread her fingers over the warm flesh of her shapely buttocks. She turned to show she was sans panties under her sheer nylon pantyhose, then pulled the front of her hose upward so they were stretched tight around the her naked crotch.