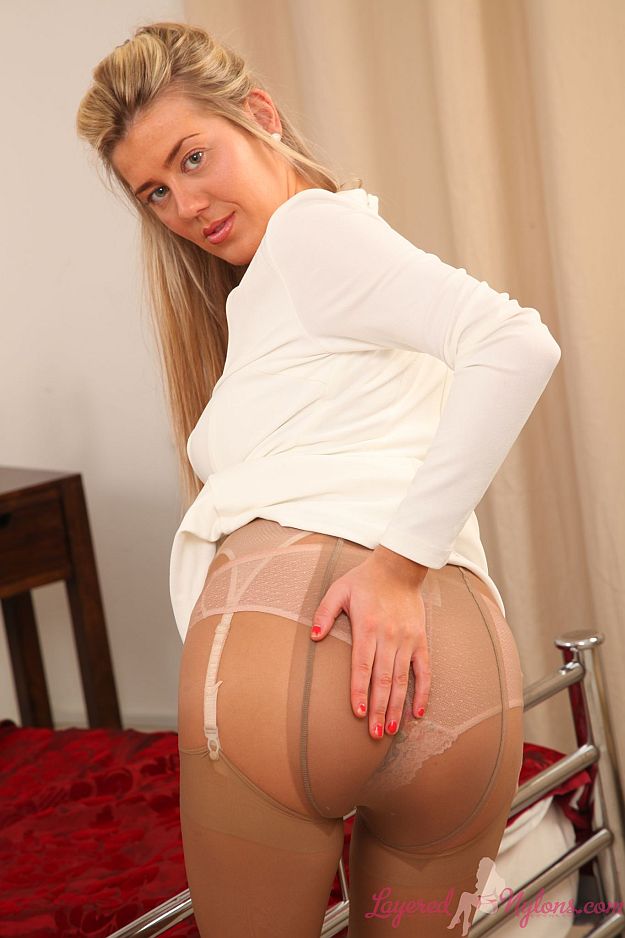 Attractive blonde Minnie reclined on the bed wearing an opened necked white dress that gave a view of her cleavage. Laying on her back and drawing up her legs, she lifted them higher and revealed tan nylon stockings under a layer of sheer nylon pantyhose.
Minnie got up to stand at the bottom of the bed and slipped off in her cream colored stiletto heels to pose in her stockinged feet. She lifted up her dress and caressed her ass clad in lace panties and sheathed in the reinforced nylon of her sexy pantyhose. Then she turned to show the lacy suspender-belt and suspender straps attached to her stockings, framing her pretty panties behind the gusset of her pantyhose.
Minnie stripped off her dress, teasingly concealing her all natural breasts with her hands before displaying them openly. She gripped the waist of her pantyhose and pulled it right up her front and over her shapely boobs. Her nipples flattened under the taut nylon screen as she held the hose agaisnt her chest, the reinforced gusset stretched tight around the crotch of her sexy panties.