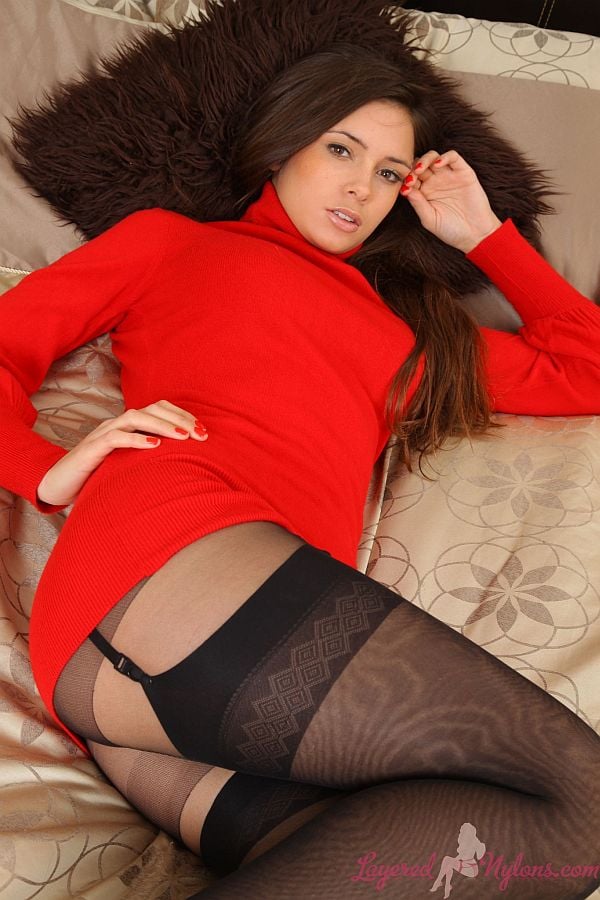 Louisa Marie looked as ravishing as ever as she stood and posed with her breasts jutting out under her red dress, legs clad in black nylon and a pair of red heels.
She turned around and looked back, her long brunette hair falling over her shoulder and smiled, as she revealed just a hint of black stocking tops under the hem of her red dress.
Reclining on the bed she pulled the dress slightly up her nyloned thigh to show her black suspenders attached to the tops of her stockings, both of which were layered over nylon pantyhose.
She lifted the front of the dress and pulled it over her head to reveal she was wearing a black bra, plus red suspender belt and black pantie thong under her sheer tights.
Slipping off each of her red heels, she stretched out on the bed and offered a close up view of her slender legs and sexy feet in their layers of nylon hosiery.
Finally, she stood in her stockinged feet and lifted her heels to balance on her toes, pulling and stretching the waistband of her pantyhose, then turned to give a view of her sexy bum encased in it's layer of tight, clingy nylon.