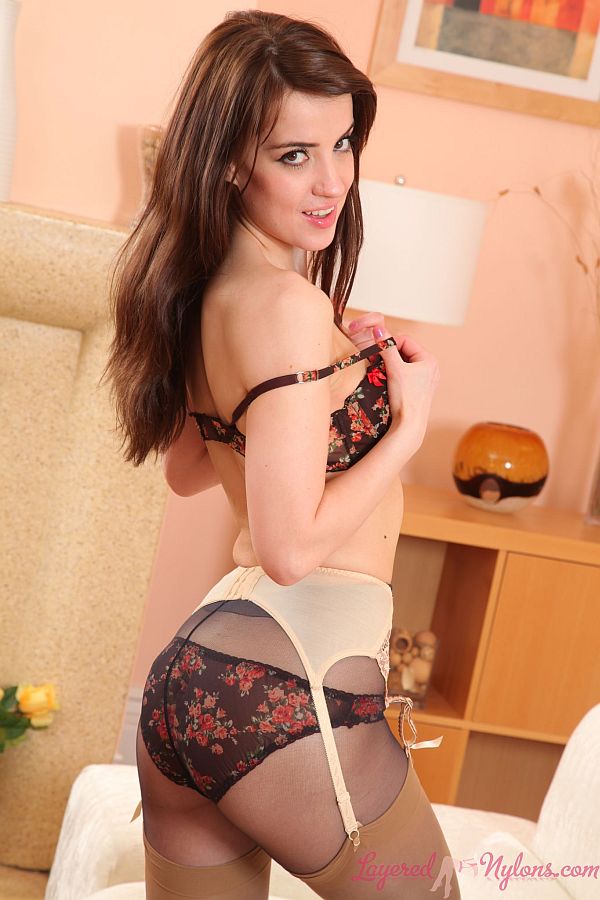 Leggy brunette Jojo settled on the sofa and displayed her long legs by lifting them onto the back rest, then pulled the edge of her skirt back to give a teasing glimpse of cream colored suspender attached to the tops of her tan nylon stockings.
Jojo shifted round and opening her legs slightly she gave us a quick flash of her panties under her skirt. She then knelt and lifted her skirt higher to reveal her full-cut panties, which were black with a red floral pattern and worn under a layer of sheer nylon pantyhose.
She unbuttoned and opened her shirt to show that her bra matched her panties, then unzipped the skirt and let it slide over her ass to fully reveal her cream coloured garterbelt, which stretched around her hips and down to the tops of her nylon stockings.
Jojo then teased the bra straps over her shoulders and stripped it away to uncover her all natural breasts with their pink, puffy nipples.
Laying on the sofa once more, she slipped off her heels and lifted up her legs to give close up views of her sexy feet sheathed in their layers of black and tan nylon stockings and pantyhose.