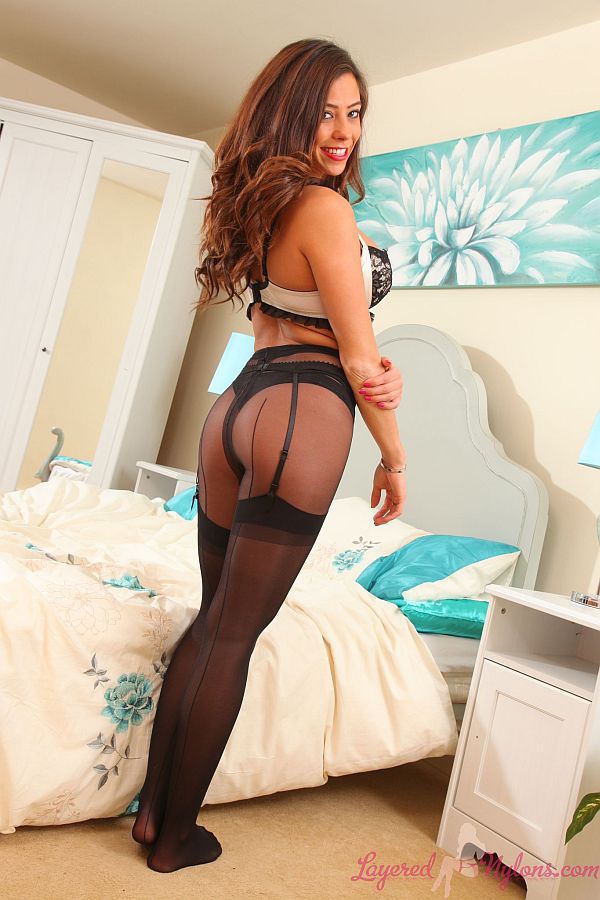 'I like wearing black in the evening, especially when I'm going out to dinner or a party,' said Layla, looking very smart in her new black dress with sexy tassels, black nylons on her shapely legs and stiletto heels.
Layla stood and lifted the back of her dress to reveal black suspenders and stockings, layered over black pantyhose, which had seams that ran up the back of the legs up to her buttocks.
Stripping off the dress, she posed in her white and black lace cup bra, a black suspender belt around her hips and suspenders that stretched to her stockings and framed the black pantie thong under the layer of her sheer nylon tights.
Layla sat on the edge of the bed and slipped off her heels, then lifted up her legs for a a close up view off her feet in their dark layers of nylon. She then stood in her stockinged feet and posed in her lingerie, turning to give a view of her legs in their black seamed pantyhose, stockings and suspenders.