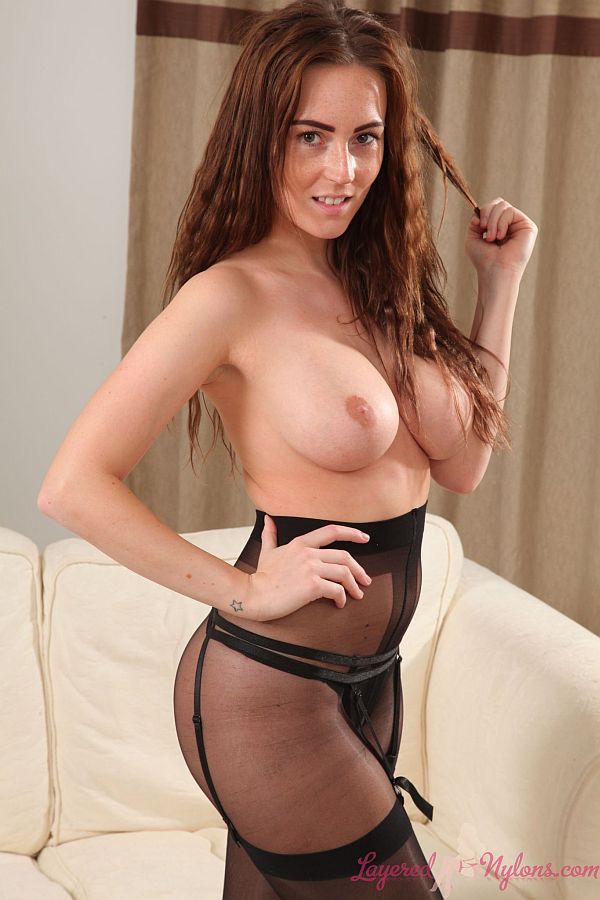 Lauren's purple dress had a low cut front which displayed a tantalizing amount of cleavage as she stood and posed for us at the start of this photo-shoot…
The bumps of her suspenders showed through the tight material of her dress, which stretched around the back of her thighs and the curve of her fabulous ass. She then slowly pulled up her dress around her waist, revealing the black straps of her designer suspender-belt, layered over the black sheer nylon pantyhose that covered her legs.
Lauren knelt on the sofa, giving a view of her ass and her suspenders, stretching around the curve of her buttocks, all nicely sheathed in a layer of black, sheer nylon. She slipped her hand between the layers of nylon covering her thighs and pushed it down the inside of her leg, causing the suspenders to strain against the tops of her black, nylon stockings.
Lauren stood and pulled down the open-neck of her dress, exposing her all natural breasts, then stripped the dress over her head and sat on the sofa to slip off her shiny, patent leather heels. She lay back and posed in her black lingerie, lifting up her long legs to point her pretty feet encased in their layers of black nylon hosiery.