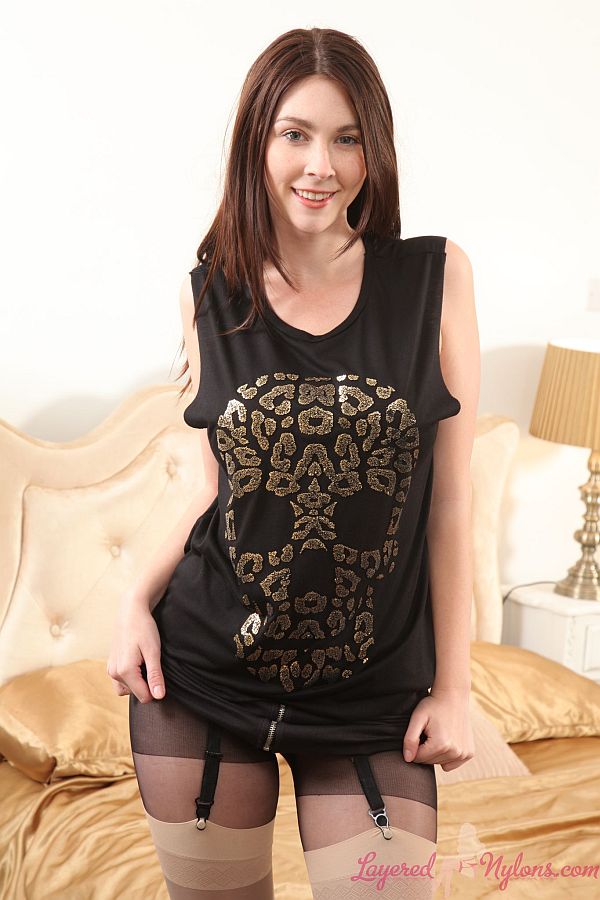 Lauren likes to go out and have fun at her favorite night club and showed us her latest outfit, featuring a black top and short skirt, stockings and heels.
'I love wearing short skirts, especially when I'm wearing something naughty underneath, like suspenders,' Lauren said cheerfully, as she stood and posed by the bed, 'would you like to see?' Oh, yes, we nodded and she slowly lifted up her skirt to reveal she was wearing black suspenders, attached to beige-tan nylon stockings, layered over black pantyhose. 'I love wearing my tights, suspenders and stockings together under my skirt, it feels quite exciting.'
Lauren stood near the bed and unzipped the front of her skirt, then turned and let it slowly slide down her legs, revealing orange silk panties under the sheer nylon of her tights. The cheeks of her bum looked so sexy layered in those panties and hose, the whole package all nicely bounded by the black suspenders attached to the tops of her stockings.
Lauren discarded the skirt and turned around, then stripped off her black top and revealed an orange colored bra with black lace trim that match her panties. She lay across the gold silken sheets on the bed and slipped off her designer heels, then lifted her legs high and gave a close up view of her stockinged feet in their layers of nylon as she rubbed them together.
Lauren released the catch of her bra, then stripped it away and posed topless, stretching out her legs as she sprawled on the bed in her panties, nylon stockings and pantyhose.