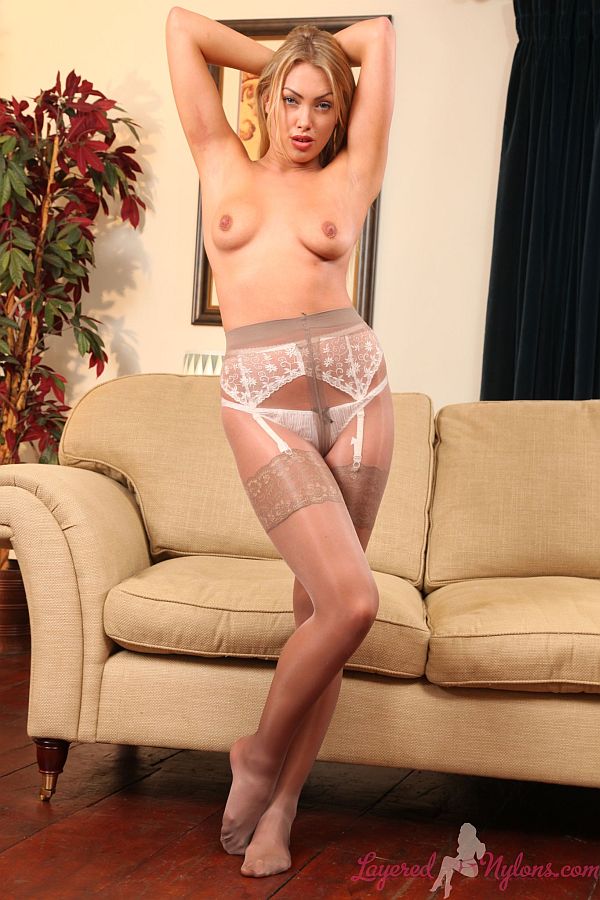 Lainey looked stunning as she sat on the edge on the sofa wearing a short, white dress, giving a view of the tops of her beige nylon stockings under a layer of sheer, gloss tights which looked so smooth and silky on her legs…
Reclining with her head resting on one arm, she shifted around to offer a tantalizing upskirt view of the crotch of her panties and the oval gusset patch of her sheer nylon pantyhose.
Lainey lay on her front and folded her legs and heels back, fully revealing the intricately patterned lacy tops of her stockings and white suspenders, under the layer of shiny nylon hose.
Lainey rolled onto her back and bands of iridescent light ran vertically over the surface of her shiny tights as she extended her legs vertically, emphasizing how long they looked in her sexy stiletto heels.
Removing her dress revealed she was wearing a white bra and a tiny matching pantie thong under her hose. She lay back and slipped off her heels and opened her legs to give a view of her pantie crotch behind the layer of nylon, then slipped her hand down the front of her tights to explore the tops of her stockings.
Stripping away the bra uncovered her petite, all natural breasts, and kneeling on the sofa she pushed her hand beneath the layer of her pantyhose to caress her naked buttocks, sheathed in their layer of shiny nylon.