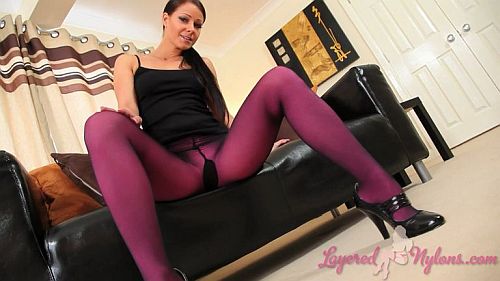 Kristina teases in double layers of plum and black nylon pantyhose in her video at Layered-Nylons.
Kristina has some very shapely legs and her double layers of plum coloured pantyhose over black nylon make for a striking combination.
One of the highlights of this video is when she stands with her legs apart and moves her ass about in those striped cotton shorts she is wearing. Not only do her legs look fabulous, but her ass looks firm and tempting in those shorts.
Just watch her unbutton the front of her shorts, then give a sweet smile as she teases them over her butt cheeks and slides them down her legs to reveal she is sans panties under her sheer to waist pantyhose.
Next we get some low angle shots looking upwards from her shoes as she smooths her hands up the length of her legs in her layers of pantyhose. Kristina then opens her legs to give some teasing shots of her crotch with only the dark patch of the gusset hiding her most intimate parts.
Removing her top we get some close up view of her breasts, before she lays out on the couch and shows off her shapely ass and legs encased in their lays of shiny tight nylon.
See more of Kristina teasing in her double layers of nylon pantyhose in this 6 minute video at Layered-Nylons.