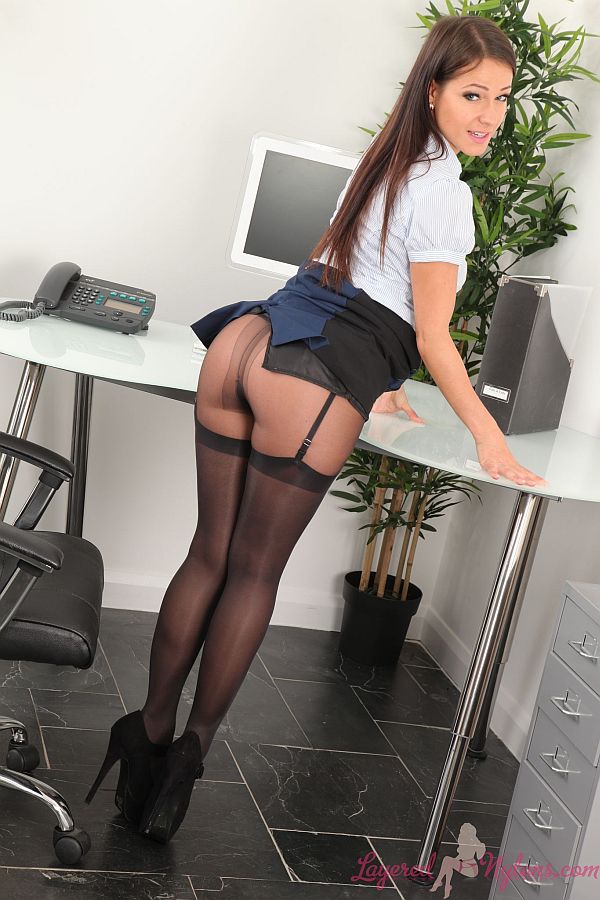 Secretary Kristina knows how to dress smartly, wearing a dark blue suit, pinstripe-shirt and black nylon hosiery on her legs, she looks the business!
Kristina is an expert at teasing the guys in the office, sitting on the desk with her legs crossed, one hand lightly resting on her knee, the silky sheen of her nylons drawing the eyes down to her feet in those sexy stiletto heels. Then there's that swish of nylon as she uncrosses her legs and gives that brief up-skirt view, and you realize she's not wearing any panties under her pantyhose.
Kristina stands and lifts the back of her skirt then spreads her hands over the curve of her buttocks, sheathed in a layer of black nylon hose. And when she turns, we see that she is indeed sans panties and her dark nylons and the opaque gusset stretched around her crotch, tantalizingly hides her intimate parts.
Kristina takes off her jacket and unzips the back of her skirt, making sure to bend as the garment slides down her legs to give a perfect view of her magnificent ass, layered in black, sheer nylon. Her buttocks look so sexy, bounded by the long black suspenders that stretch under the sheer layer of her pantyhose and pull on the tops of her stockings.
Stripping off her shirt reveals a grey bra decorated with a floral pattern in black lace that matches the suspender belt under her hose. Slipping the straps of the bra over her shoulders, she unhooks it at the back and pulls it away from her chest, revealing her beautiful, all natural breasts.
Kristina sits in the chair and takes off her heels, then lifts her legs to rest them on top of the desk and give a close up of her feet and toes in their layers of black, nylon hosiery.