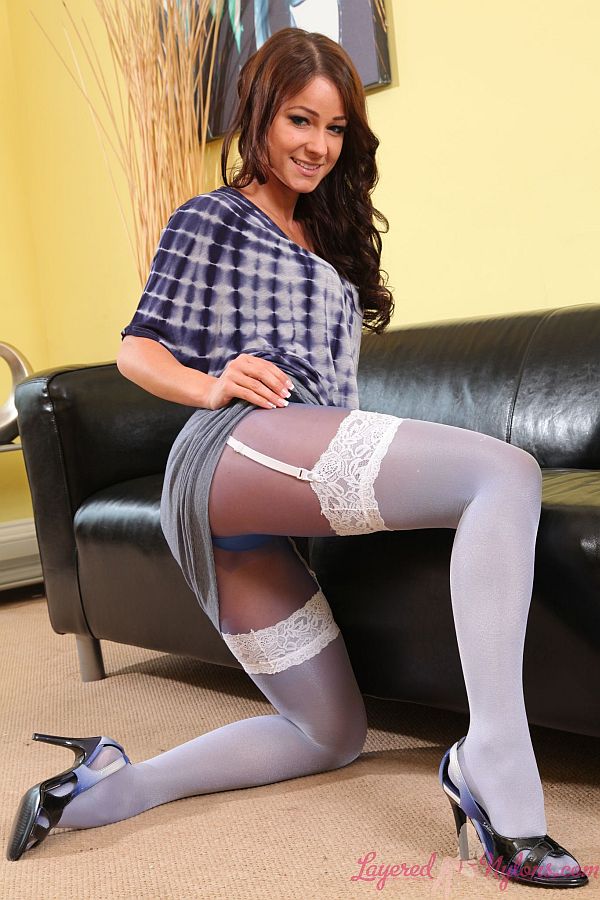 Kristina is back, this time looking very casual in a loose fitting, tie-dye top, grey skirt that is just tight enough to show the raised bumps of her suspenders through the light cotton material.
Kneeling on the floor she slowly lifted the front of her skirt, revealing the white lacy tops of her nylon stockings and suspenders, which were layered over blue nylon pantyhose.
Squatting on her heels, she opened her legs wider to show she was sans panties behind the blue opaque patch of her pantyhose gusset which stretched tightly over the area of her crotch.
Kristina smiled as she lifted up her tie-dye top, revealing the dark green bra underneath, that supported and pressed her breasts together to form her cleavage. Then she stripped her skirt down her legs and lay back with her legs and heels pointing upwards, the white suspenders stretching over her thighs and pulling on the tops of her white stockings.
Kristina removed her bra and slipped off her heels, then stood on her nyloned tip toes and stretched the front of her lacy garter belt belt out from her waist so the suspenders pulled taut on her sexy nylon stockings.