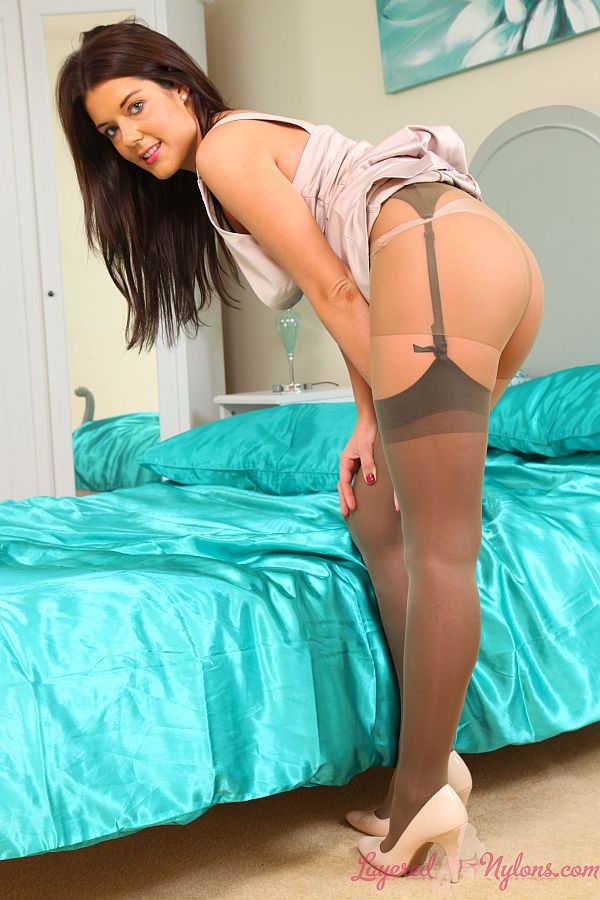 Beautiful brunette Kelly sat on the edge of the bed in her pink satin dress which had a plunging open front that gave a tantalizing glimpse of her breasts.
Laying back she opened her legs to give an upskirt view and reveal she was wearing black nylon stockings under a layer of tan, sheer nylon pantyhose.
The tan oval patch of her pantyhose looked incredibly sexy as the sheer nylon stretched over her sexy, white cotton panties which had a pretty, rose design, that made them look a bit retro. Then she rolled over to give a view of her ass and revealed that her panties were in fact a thong; the back slipping between the cleavage of her round naked buttocks, which looked so delectable in their layer of sheer nylon hose.
Kelly stood to strip out of her dress and revealed the soft curves of her all natural breasts, letting the garment to slowly slide down her body and legs to the floor. She then lay back and opened her legs wider to fully display more of her enticing white panties and black suspenders through the sheer nylon of her tights.
Laying back on the satin sheets, she slipped off her cream coloured heels and swinging her legs up, she crossed them at the ankles to give a close up view of her stockinged feet, encased in their dusky layers of sexy nylon.