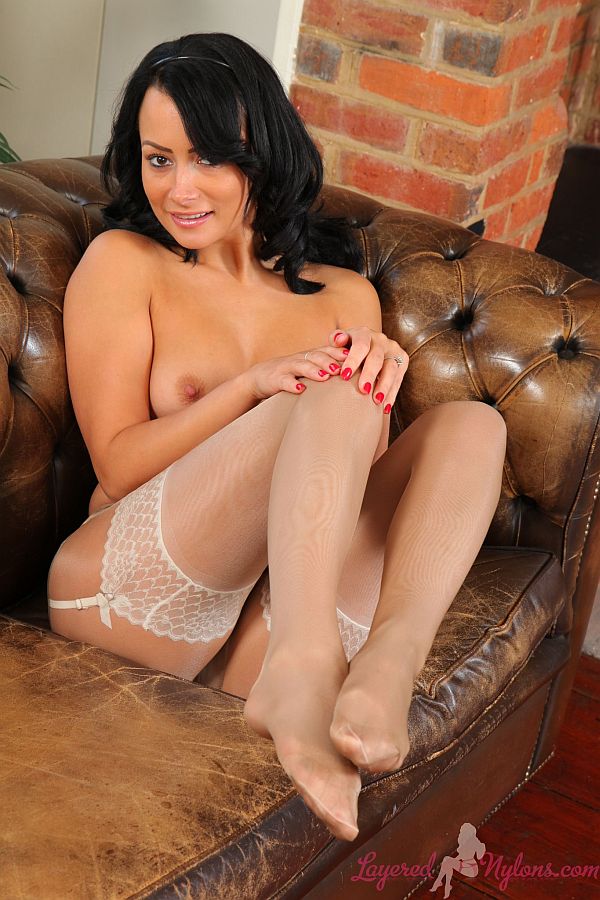 'Is this what you wanted to see then?' Kelli smiled as she lifted the front of her skirt and gave us a flash of her suspenders attached to the tops of her white, lace top stockings, under a layer of glossy, sheer nylon pantyhose.
'How about from the rear, is that better?' Kelli turned around and lifted her skirt to reveal black panties under the shiny beige-tan layer of her hose encasing the curve of her shapely ass. Her panties and hose combined, held her buttocks firmly in place and the incredible sheen looked so smooth and silky, just perfect for running your hands over the surface of her glossy nylon tights.
Kelli bent over slightly and pushing out her ass, she pulled her tight skirt down and over her bum cheeks, clad in panties and hose, revealing the white, lacy suspender-belt around her hips. She stripped off her top to reveal she was wearing a black lace, under-wired bra, then posed in her lingerie and stretched the waist of her hose up her belly and under the crotch of her panties.
Kelli unhooked her bra at the back and stripped it away to display her petite, all natural breasts and puffy nipples, then lay back on the sofa with her legs open, giving a view of the semi-sheer oval of her pantyhose stretched over her pantie crotch.
Pushing her hands down the side of her hose, she explored her thighs and the tops of her stockings with her fingers, then slipped off her heels and lifted up her legs to display her feet in their cocoon of fine silky nylon.
Finally, she stood on her stockinged tip-toes, lifting her heels off the floor and giving us a great view of her shapely ass and legs sheathed in their shiny layers of nylon hosiery.