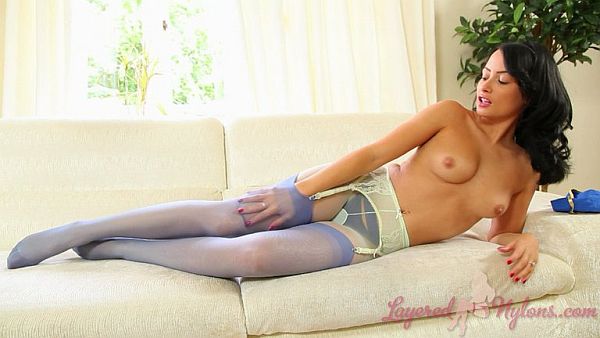 Kelli Smith dressed in a fancy dress, sailor girl outfit, with light blue stockings and shiny heels for this video.
Laying on the sofa, she removed her heels and caressed her legs and feet in their layers of nylon, then slipped the straps of her outfit over her shoulders and pulled down the front to reveal her petite all natural breasts.
She pulled the outfit down her legs to strip it away, uncovering the mint coloured, lacy suspender-belt around her hip, layered over sheer nylon pantyhose.
Kelli pushed her arm down the front of her pantyhose and thrust her hand down to her thigh and under the layers of her hose, suspenders and stockings. Then turned to give a view of her ass sheathed in nylon and pulled up her legs so her suspenders strained on the tops of her stockings.
Kelli moved in a continuous sensual motion, rolling over and flexing her legs, while sliding her hands all over her slender body, her nyloned legs making a swishing sound as they brushed together.
She then stood in her stockinged feet and caressed her legs as she posed topless in her layers of lingerie, nylon stockings and pantyhose.