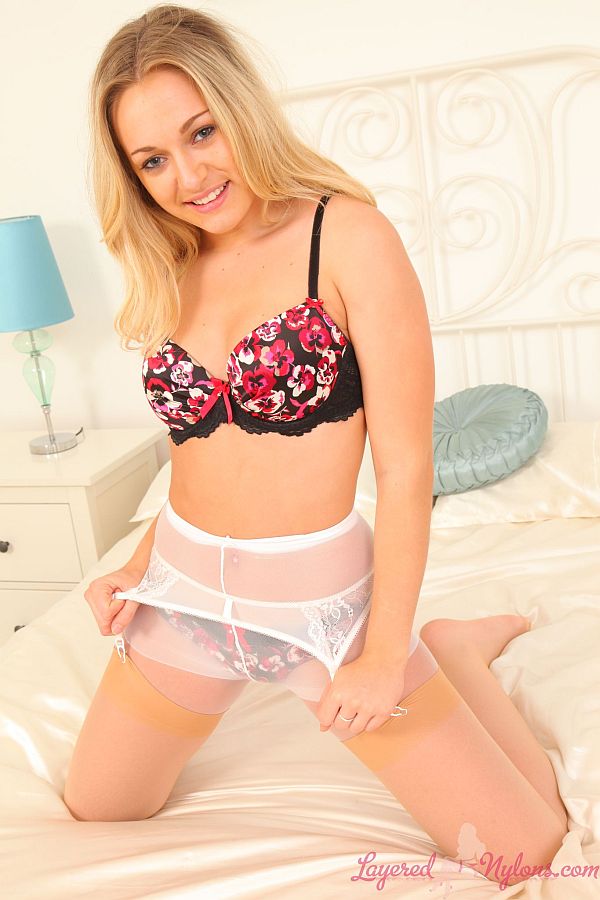 Kay Taylor is ready to tease the guys in her pink crop top, short denim skirt, tan nylon stockings and white hose in this photo set…
Kay stood by the bed in her strappy heels and turning around she leaned over, pulling up the back of her short skirt to flash her suspenders and stocking tops. She pulled her skirt tight around her thighs, lifting it slightly to give us a tantalizing look of the gusset of her hose, stretched between her thighs and layered over her panties.
Unzipping the front of her skirt, she leaned forward and slowly pushed the tight garment over her nyloned ass and down her hosed legs. Then sitting on the bed, she unbuckled the straps of her fashion heels and took then off, then laying back she lifted and crossed her legs at the ankles, showing the soles of her feet in their layers of tan nylon hosiery.
Kay sat and stripped off her top, revealing the pretty pink and black floral bra underneath. that matched the panties she was wearing under the layer of her sheer nylon tights. Hooking her thumbs under the webbing of her suspenders, she pushed the straps out and away from her thighs, so the clasps pulled on the tops of her tan, nylon stockings.
Kay stripped off her bra, then posed topless as she knelt on the bed, sitting back on her calves with her legs open to show the white crotch of her pantyhose stretched over her pretty, floral panties.