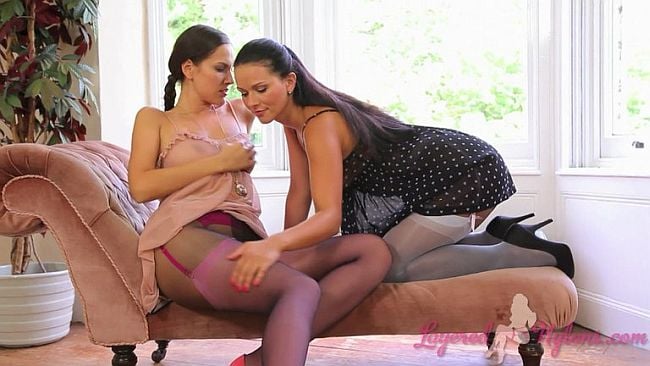 Katya Nova & Zuzannah get together in another hot video where they explore each others body's in their layers of lingerie, nylon pantyhose and stockings.
The girls stood close and moved together, lifting the flimsy material of their chemise's and revealing that they were both sans panties under their sheer to waist pantyhose.
Zuzannah sat on the chaise-lounge and her hands lifted Katya's chemise and plucked the taut suspenders that framed her friend's pantyhose crotch, through which wisps of pubic hair were tantalizingly visible.
Zuzannah lay back as Katya's hands caressed her belly and slipped under her chemise to briefly give her breasts a feel. Katya then pushed her hand down the front of Zuzannah's pantyhose and explored her thighs between the layers of nylon, pulling on the pink suspenders which were attached to the top of her friend's nylon stockings.
They assisted in stripping off each others chemise's and pressed their bodies together, which made them both smile with pleasure at the sensation of their petite breasts touching during their embrace.
Zuzannah kissed and licked Katya's breasts and she returned the favor likewise, sliding her tongue over her Zuzannah's tits and sucking on the erect nipples with her wet lips.