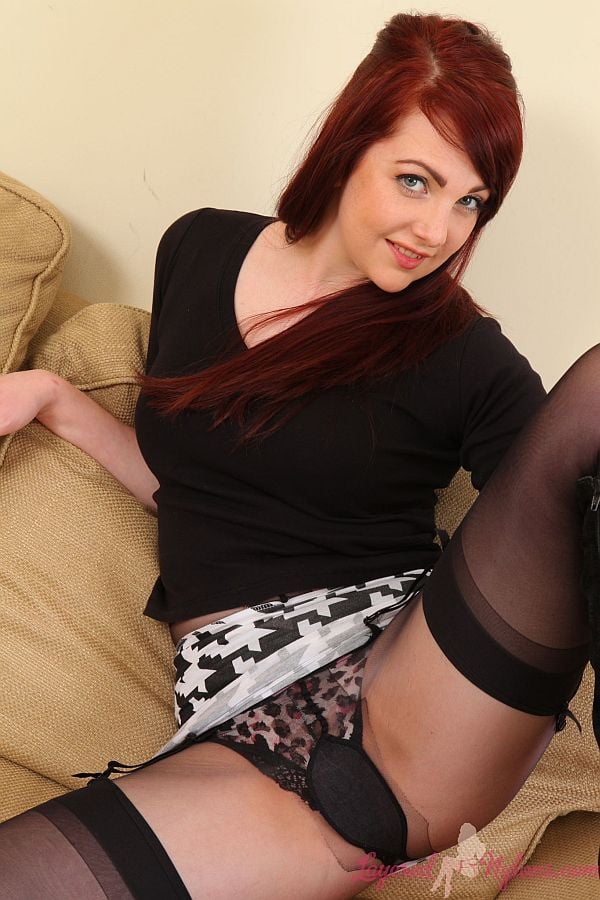 Kara Carter in dressed in black nylon hosiery and suede, knee high boots, gives ample views under her tight skirt in this photo-set at Layered-Nylons…
Kara looked back over her shoulder and gave a saucy smile, as she showed us her lovely ass that looked so perfect in her tight fitting skirt. Reclining on the sofa, she slowly opened her legs, giving us quite an eyeful of her pretty thong panties behind the black, gusset of her pantyhose.
Kara pulled off her top and bent forward, sliding her skirt down her legs to reveal the wide fitting, suspender-belt around her waist and a black bra that matched her panties. Hooking her thumbs under her suspenders, pulled them out slightly so they strained on the tops of her stockings. She then turned and ran her hands over her buttocks, following the curve of her ass, all nicely encased in those sexy panties and layer of nylon hose.
Unzipping her suede boots, she lay back on the sofa and lifted her legs, crossing them at the ankles to show off the soles of her feet and pointing her toes in her nylon hosiery.