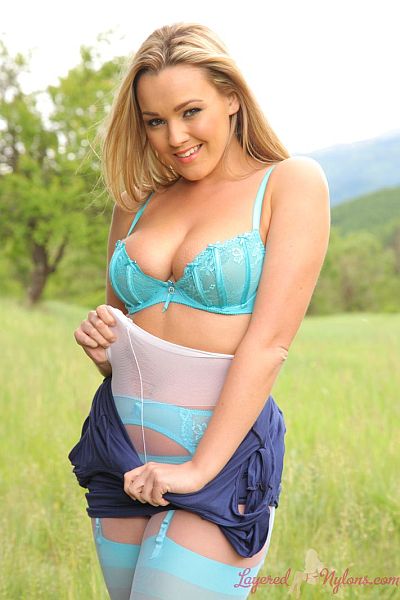 Busty blonde glamour model Jodie Gasson poses topless outdoors in her layer of white nylon pantyhose over blue stockings in her latest photo set at Layered-Nylons.
It was too hot and humid the other week when we had arranged to do this photo-shoot with Judy Gasson, so we took her out for a country walk and found a nice quiet hillside where she could strip down to her underwear in comfort.
Jodie's ample breasts almost spilled out of the top of her dress as she leaned slightly forward for a better look and pushed her bosom together with her arms.
Lifting the dress over her ass revealed she was wearing some very pretty turquoise panties and matching suspender belt and stockings, all of which was worn under a fine layer of white pantyhose. Allowing the loose fitting shoulders of her dress to fall down her arms uncovered the matching blue bra which completed the set.
Jodie slipped out of the the dress, then removed her bra and leaned over to give a rear view of her lovely pantied ass and suspenders stretching around her thighs and under the layer of her tights. She ran her hands up her legs in their double layers of nylon and then pushed them down the front of her hose to feel the tops of her stockings.
Jodie Gasson is a real cutie when she smiles, so don't miss on seeing her posing topless in her lingerie and layers of nylon pantyhose over stockings in this 129 image photo set at Layered-Nylons.