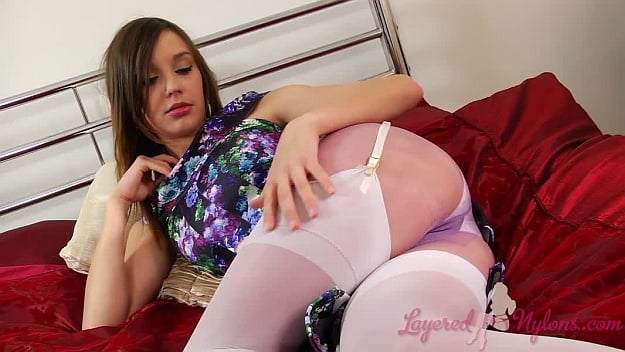 'The sun is shining today, so I thought I'd put on my beautiful summer dress,' Jo says, standing in her sunny bedroom and posing in her pretty floral frock.
Jo turns on the spot, slightly lifting the hem of her dress to give a teasing glimpse of her white suspenders and stocking tops. She pulls up the back of her dress to reveal white panties covering her ass, under a layer of lilac coloured sheer nylon pantyhose.
Reclining on the bed she slides her thumbs under her suspender strap and lets it snap back into place against her nylon clad thigh. Then she lifts up her legs and slips off her pink heels to rub her pretty feet together in their layers of nylon hosiery.
Jo lays on her front and reaches behind to caress the backs of her thighs and squeeze her shapely buttocks inside their layer of panties and sheer nylon tights.
Jo strips off the dress and fondles her delicious all natural breasts and erect nipples, squeezing the soft mounds between her fingers. She pushes her hand under the waist of her hose and white suspender-belt, then slips it inside to run her fingers over the material of her sexy, lace panties.