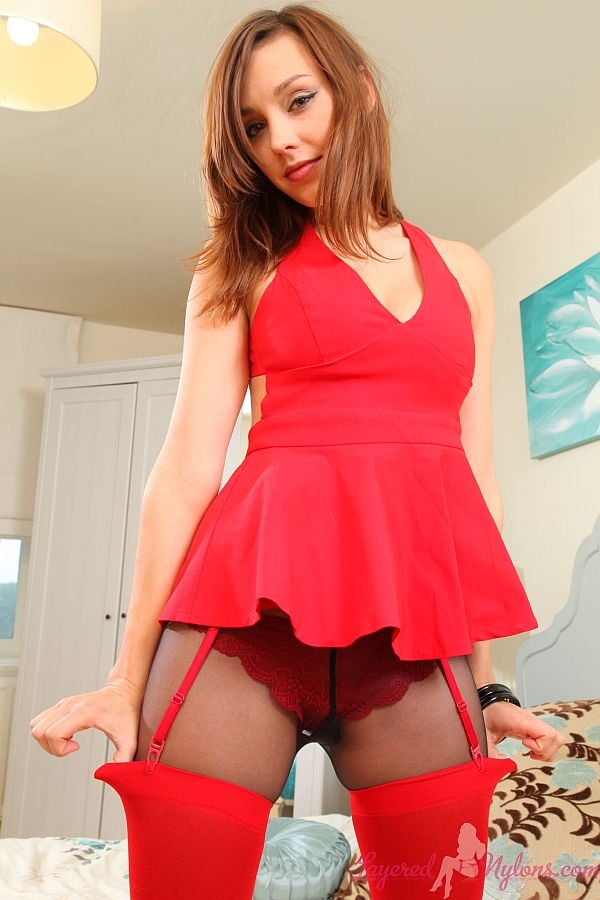 It looked like Jo E was wearing only red opaque stockings on her legs, but it became apparent when she lifted up her skirt that she had some black, sheer nylon tights underneath.
Laying on her side with one leg crossed over the other, she pulled up the edge of her skirt to revel a sexy, black seam running up the back of her legs. Red suspenders stretched and pulled on the tops of her matching stockings, contrasting against the black nylon covering her sexy thighs.
Jo stood to remove her skirt and hooked her fingers under her suspenders, which framed the red panties showing through the sheer nylon crotch of her hose. She then pushed the suspenders outwards from her thighs, so they strained and pulled on the tops of her stockings.
Jo stripped off her top to uncover the pale flesh of her all natural breasts and posed topless as she stretched out on the bed, then slipped off her heels to show off her legs and feet in their layers of red and black hosiery.