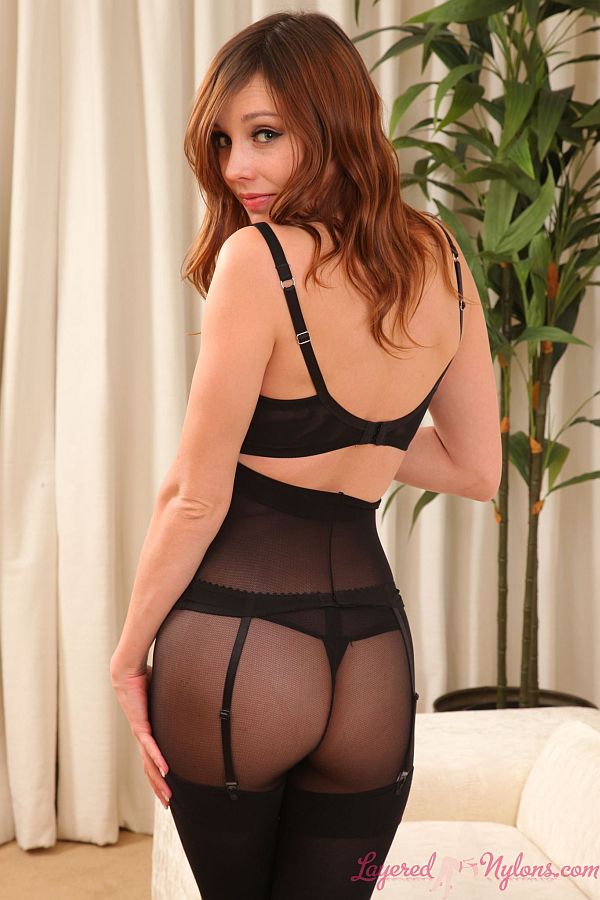 Slender redhead Jo E looked sexy and elegant as she posed in her black party dress, her legs in covered in black, opaque nylon hosiery and a pair of shiny, black heels.
Turning, she lifted up the back of her dress, revealing the 'whale tail' of her black pantie thong and her lovely buttocks sheathed in a layer of black nylon pantyhose. She ran her hands over the curve of her bum cheeks and her fingers brushed over the black suspenders attached to the tops of her black nylon stockings.
Jo crossed her arms and pulled the dress over her head, revealing a black and white bra and black suspenders that framed a matching pair of panties under her sheer, nylon pantyhose. Sitting on the sofa, her hand slid along her long, slender legs and reached her ankles, whereupon she slipped off her shiny, leather heels.
Teasing the straps of her lacy bra over her shoulders, she squeezed the loose cups around her breasts before finally stripping it away. Then she sat back and lifted up her legs, crossing them at the ankles as she gave a close-up view of her feet in their layers of black nylon hosiery.
Jo reclined on the sofa and posed topless, showing off her fabulous ass framed by the taut suspenders wrapped around her bum cheeks, straining on the tops of her black nylon stockings.